Juniore @ Night People, Manchester, 07.05.19
Parisian noir pop outfit continue their rise with a sparkling live show in Manchester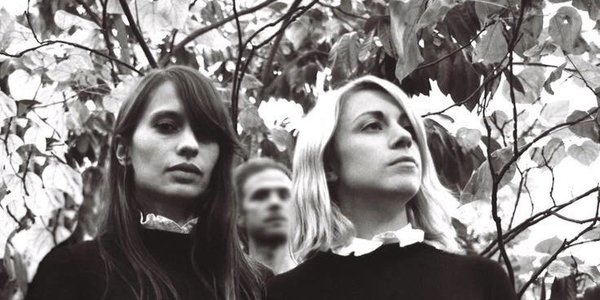 Taking to the stage of an impressively well attended post Bank Holiday show, noir-pop specialists
Juniore
are back in Manchester following their January support stint for The Dandy Warhols.
With a near-constant stream of gigs since their first UK tour last year, the Parisian trio's live sound grows bolder with each encounter. Clearly fond of road-testing unreleased material, the troika confidently play an impressive untitled new track at the top of the set before moving into the spooked psych pop of Difficile, replete with crowd assisted 'Ooh-eh, ooh-eh' chorus vocals.
En Retard, an almost spoken-word Subterranean Homesick Blues-style tale of being pushed for time is superbly dispatched along with slow-rolling new track Soudain. Leading the trio, multi-tasking lead singer Anna-Jean handles keys, Ray Manzarek-style keyboard bass and percussion. Guitarist Sammy Osta meanwhile has traded his Grim Reaper outfit in for a new Spring Collection which includes a wide brimmed hat similar to the headgear Vincent Price modelled in
Witchfinder General
.
Keeping everything on track, drummer Swanny Elzingre's exacting beats, steers the songs with jazz-like precision, reaching its pinnacle on an accelerated, toughened up take on garage rock chanson Panique, powered by lightening fast hi-hat work. Introduced as a song whose title doesn't have a direct English translation ('Oh, OK' was the best Google Translate could come up with),
Ah bah d'accord
stands as one of Juniore's best moments to date. The sound of Juniore appearing on the Sunset Strip circa 1966, or Emma Peel attending a garage rock gig possibly, the flipside of the band's new 45
En Solitaire
is every bit as strong as its excellent, ennui drenched A-side.
A La Plage, which earlier prompted the teasing, quizzical reply "but there isn't a beach in Manchester?" from Swanny when requested, sees Anna-Jean and Sammy switch places, ("He used to be a ghost, now he's a magician" Anna Jean notes) prompting the famous opening keyboard riff to Je t'aime... moi non plus to knowing laughter.
Following a swift canter through surf guitar led cuts L'Accident and Mon autre, traditional closer, keyboard-led instrumental Ouh là là signals the end of proceedings. Next on these shores for festival season, the Parisians' hugely deserved ascent continues.