Juniore: Magnifique (Outre)
Excellent primer to the Parisian outfit bringing together French pop icons with elements of garage rock and film soundtracks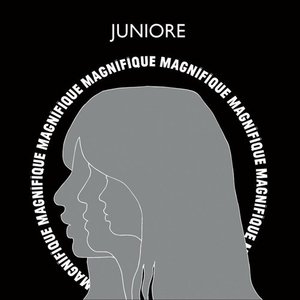 Brilliantly self-described as 'yé-yé noir', the new set by Paris based alt. pop outfit
Juniore
pulls together tracks from last year's
Ouh là là
LP and superior cuts from the band's earlier singles. Issued on the lesser-used format of 10" vinyl, the eight-tracks are steeped in effortless Gallic cool: Serge and Charlotte Gainsbourg, elements of Stereolab, Nouvelle Vague cinema plus a smattering of classic US garage rock.
Led by singer/songwriter/guitarist Anna-Jean, keys player Laure Weisdorf brings a gothic undertow to Marabout and Difficile, drummer Swanny Elzingre's nimble timekeeping propels the tracks while 'The Thing', a Grim Reaper-styled figure provides bass. Produced by Samy Osta, noted for his work on the other side of the studio glass for French psych/punks Le Femme, the soft drum pattern and ethereal harmonies of Ça Balance get things underway, before the tempo increases with Panique which would be the ideal soundtrack for Jean-Paul Belmondo to
outrun the cops
in
Breathless
. Continuing the film references, the paranoia-riddled, Roman Polanksi inspired
video
highlights another influence of the group.
Wearing its sixties influences lightly, the vocal melody of Marabout recalls The Kinks' classic Sunny Afternoon, while En Retard is wonderfully upbeat retro pop replete with flute accompaniment and sung-spoken vocals courtesy of singer/actress Josephine de la Baume. The title track is an atmospheric psychedelic groove while concluding cut A La Plage is a languid afternoon stroll along the shore. The perfect introduction to the band's Gallic surf pop chansons, the title effectively doubles up as the review, really.
8/10
Junoire UK Live Dates:

Weds 25.07 - Sebright Arms, London
Thurs 26.07 - The Crofters Rights, Bristol
Fri 27.07 - Bitch Craft, Brighton