Juniore: Un Deux Trois (Outré)
French noir-pop specialists unveil glorious new LP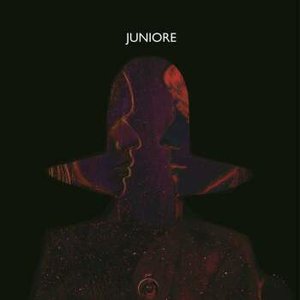 Deservedly finding a receptive audience in the UK following highlights-so-far disc
Magnifique
in 2018, French noir-pop trio
Juniore
return with new LP
Un Deux Trois
.
Led by vocalist/songwriter Anna-Jean alternating between guitar and keys and producer Samy Osta doing the same, the combination of surf guitar riffs, Vox Continental organ keys, and Francophone yé-yé pop is held together by Swanny Elzingre's outstanding drumwork. Recent live set opener, the sashaying groove of Soudain and minor key rocker Grave with its heavily echoed backing vocals and oscillating theremin begin
Un Deux Trois
in commanding fashion.
Brief instrumental Walili (possibly named after the Moroccan city) leads into one of the album's best moments, La verité nue (The Naked Truth), underpinned by a looped bassline and Swanny's skittering beats. The near instrumental
Bizarre
, understandably selected as the second single from the LP is an earworm of a tune, its whistled riff lodging itself in the memory.
Any filmmakers requiring a film noir / spy movie soundtrack are urged to contact the current band. Tu Mens is one of Juniore's best so far, evoking scenes of frantically dashing between telephone boxes, bugged hotel rooms recorded on to reel-to-reel tape and discussions in smoke-filled rooms about sorties "behind the wall".
On the subject of soundtracks, if Antonioni had shot Swinging London flick
Blow-Up
in Paris and hired Juniore instead of The Yardbirds for the club scene (slightly problematic pending the invention of a working Tardis, admittedly) superlative garage rock stomper
Ah bah d'accord
would have provided the ideal soundtrack.
The flipside to the single meanwhile,
En Solitaire
is a wonderfully languid slice of dream pop that sparks into double-time as the fade approaches. Surrounded by a halo of deep reverb, Que la nuit is a mournful torch song that sees Anna-Jean turn in one of her best vocal performances to date, while the flute embellished Adolescent is sparkling psych pop.
A rich tapestry that pulls together all the threads that made them so notable, the Parisians' second long player is a finely tailored gem.
4/5