Fránçois & The Atlas Mountains @ Soup Kitchen, Manchester, 29.03.17
Dependably excellent live, the French/Anglo alt. pop group bring their estimable live show to Manchester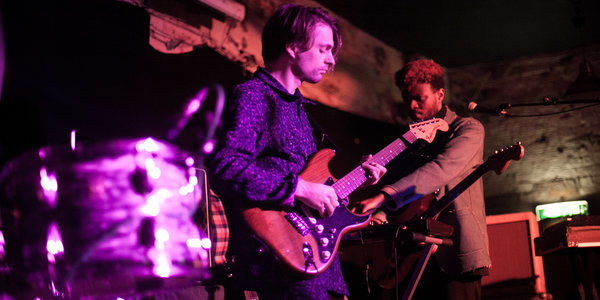 On the day the UK triggers Article 50 to leave the EU, in a hugely refreshing contrast to the never-ending Brexit bollocks that has taken up permanent residence in the news cycle estimable French/English alt. pop group
Fránçois & The Atlas Mountains
visit Manchester. The band's exhortation earlier in the day on Twitter 'Let's have a remaining party tonight' is enthusiastically taken up by the capacity crowd in the cosily ramshackle subterranean gig space at the Soup Kitchen.
The outfit's hallmark mixture of sunburst highlife guitar lines and baroque pop explored across four LPs has been supplemented with strings and folk music tropes on newest album
Solide Mirage
which is played in almost its entirety. Mirroring the disc's opening tracks on the band's most recent LP the Afrobeat inspired Grand Dérèglement is followed by the delicate synth pop of Tendre Est l'Âme.
It becomes immediately apparent the musicianship from the current configuration of Atlas Mountains is astounding. Unlike bands whose live improvisations can dissolve into one-upmanship, the present outfit crucially listen to each other, imbuing the set with the feeling that no two shows genuinely are the same given the invention on display. Bassist Amaury Ranger switches between four strings and percussion while David Nzeyimana on keys/guitar/backing vox/unbridled enthusiasm provides the musical cement that holds the structure together.
Guiding proceedings by ESP seemingly Marry is the charismatic centre of it all, the music rising and falling on his invisible command. In constant motion when away from the microphone, the singer's presence makes the venue's low stage seem bigger than it is, at one pulling some impressive Hendrix style guitar moves, playing his axe whilst lying on his back.
While on record the full-length version of Âpres Après is closer to a groove than an actual song, live the track absolutely comes into its own, the quartet pursuing an elongated version of the cut wherever it takes them without ever losing the thread. The harmony laden Jamais Deux Pareils is a highpoint as is the soft patter of the light touch acoustic led 1982. At the other end of the spectrum sonically garage rock rampage Bête Morcelée is given an extended build up and outro that throws the spotlight onto exemplary drummer Jean Thevenin.
After almost 90 minutes of glorious noise the end inevitably comes, the applause lasting long after the quartet have departed the stage and the sated audience streams out. Pretty amazing all in all.
Images by Marie Hazelwood
Fránçois & The Atlas Mountains Links