Frànçois & The Atlas Mountains: Banane Bleue (Domino)
Pan European indie pop project return with seventh LP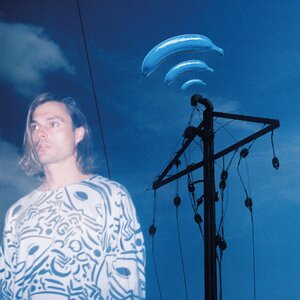 Their first album through Domino since 2017,
Banane Bleue
continues
Frànçois and the Atlas Mountains
journey through alternative pop inspired by European and North African influences.
Where the group's 2018 project
Fleurs Du Mal
saw mainman Frànçois Marry writing an album based around the poetry of Baudelaire, the new disc picks up where 2017s impressive
Solide Mirage
left off. Backed by a rolling band of exemplary musicians, as their
outstanding live shows
attest to, here Marry played everything solo.
Named after an
economic concept
formulated in 1989 by French geographer Roger Brunet the titular fruit is a corridor of densely populated European cities that stretches from Liverpool down to Milan. Ahead of release Marry described the disc "If
Solide Mirage
was about cities,
Banane Bleue
is about electric currents in the air". The notion of the album capturing something fleeting is certainly achieved as the tracks glide past beautifully. Downbeat string quartet-lead cut The Foreigner underlines how Marry could easily take up an alternative career a la Jonny Greenwood as a soundtrack composer. Steering back towards pop lead single Couco, the chronicle of a distintegrating relationship, despite the angsty subject matter patters along softly.
Dating from Marry's time living in Bristol in the early 2000s Julie with its Anglo / French lyric sheet combines ambient textures and an earworm vocal melody, while Lee-Ann & Lucie is gorgeoulsy languid dream pop. Named after the New York party girl who wants to marry the ninth richest man in America, Holly Golighty tips its hat to the character immortalised by screen icon Audrey Hepburn in
Breakfast At Tiffany's
. The track sounds like something that could date from the era, used as the main title theme and as incidental music throughout. Tourne Autour is cut from similar cloth, pairing vintage drum machines with percolating synth textures to create something akin to an extremely mellow disco banger.
As lovely as the material is, the LP might have benefitted from a change in pace to break up the uniform feel. An indicator of this is Revu, which while restrained on disc builds into a sweeping, cymbal washed epic that has the makings of a colossal live track. Returning to the subject of soundtracks Gold Lips would be ideal to accompany scenes of a city at first light with its glacially paced guitar chords, barely-there drums and mournful clarinet motif. Dans Un Taxi continues this mood, Marry's hushed vocals backed by vintage synths conjuring up visions up being transported home by cab in the early hours.
A pleasant reverie but some grit in the oyster would have been welcome
3/5
Fránçois & The Atlas Mountains Links