The Lucid Dream: Songs of Lies and Deceit (Holy Are You Recordings)
Psych alchemists deliver the goods on triumphant first album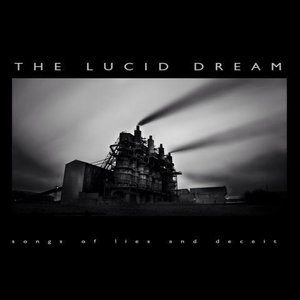 One of the few bands to hail from Carlisle well, ever the slow rise of
The Lucid Dream
to become one of the UKs leading exponents of psychedelia has been paved with a brace of 7" inch singles and EPs.
Debut LP
Songs of Lies and Deceit
more than builds on the promise exuded by those early releases, the group's palate broadening to take in elements of 4AD dream pop, Indian guitar lines, gospel and vintage garage rock.
While the band's influences can be clearly discerned at points, Black Rebel Motorcycle Club, Pink Floyd, Suicide,
Nuggets
-era underground gems, the quartet emboss the nine tracks present with their own sound.
'Hows Your Low When You're Low Alone?' a belligerent blast of thundering tom tom drums and serrated guitar lines makes for a colossal opening statement of intent, the six minute opus the most heads-down rocker on the LP.
Hard on its heels, 'Glue (Song for Irvine Welsh)' inspired by the Edinburgh bard's lengthy 2001 novel hurtles along on a furious sped-up Mary Chain drumbeat and sinister shadowy vocals.
One of the band's best known cuts 'Love In My Veins' meanwhile, a close cousin to the BRMCs dark gem 'Spread Your Love' switches moods, introducing a troika of more pop-orientated cuts.
'Heartbreak Girl' coming across as a male-fronted incarnation of The Raveonettes is followed by acoustic strummer 'Heading for the Waves' which shimmers along on heat-hazed acoustics. Overlaid with Pink Floyd-esque liquid lead guitar lines, the track is one of the strongest cuts here, trading in the sinister vocal incantations heard elsewhere for a more pastoral take on psychedelia.
Kicking off Side Two 'In Your Eyes' in classic vinyl fashion is a strong contender for the best thing on the LP. The high watermark of the band's pop leanings, the track is a doppelganger for the original Creation Records Sound archived on compilation albums like Doing It for the Kids as practised by early Primal Scream, MBV and wealth of now overlooked bands.
'A Mind at Ease Is a Mind At Play', its title reminiscent of a slogan scrawled on the wall of a hippie commune/squat circa 1967 is guided along by light skipping drums, Hammond organ swirl and Indian modal guitars bringing psych progenitors ? and The Mysterians to mind.
'The Twilight End' led by Cocteau Twins chorused guitars and call and response vocals ushers in epic closer 'Sweet Hold On Me' which with a fair degree of welcome predictability, is the longest song on the album.
A BJM acoustic n' tambourine groove that speeds up into a maelstrom as Hammond keys and guitar lines pile on top of one another, the entire thing then slows back down into a somnambulistic daze, effectively summing up the band's oeuvre in one track.
A sterling debut outing
Songs of...
melange of lysergic sounds given a high-powered modern edge more than affirms the plaudits flung The Lucid Dream's way while simultaneously laying claim to being one of this year's strongest psych albums by a UK band.