Willard Grant Conspiracy: Untethered (Loose Music)
Nearly two years on from frontman Robert Fisher's untimely death, The Willard Grant Conspiracy bow out in style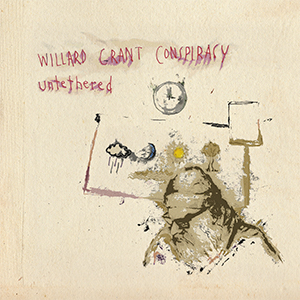 A few years ago, Bearded reviewed
The Willard Grant Conspiracy
, the late Robert Fisher's purveyors of literate, cinematic Americana, when they played
Kings Cross's St Pancras Old Church
, surely one of the country's most beautiful venues.
Touring their penultimate record
Ghost Republic
, the band charmed our socks off. Ten albums in, they seemed like one of those acts who would always be around. However, man plans, God laughs, as they say, and Fisher later got the kind of news there is no coming back from.
Fortunately for us, before his premature passing Fisher and friends were able to lay down one final set of songs. And while only the title track was written after his cancer diagnosis, it is spooky how many of them seem imbued with unsettling premonitions.
The group's's final collection, posthumously assembled by his bandmates, sees Fisher admit to fears and failings, celebrate life's joys and express love for those closest to him. He does so with artistry, honesty, love and raw emotion, while his storytelling and lyric-writing is as controlled and expert as ever.
Musically, this is fairly low-key and unbuffed in the main. Fisher's intimate, conversational vocals are sometimes backed by acoustic guitar and little else, on other occasions interweaving with sombre, almost droning violin.
Some tracks are anchored by a slow, stately, simple rhythm section, while there are several pretty and fairly slight instrumentals - plus the epic, and somewhat rockier, psych- tinged closing six-minute instrumental Trail's End.
The album commences in atypical mode, with the unusually gnarly and attitude-laden Hideous Beast. Anchored by a menacing bass groove, the vocal has elements of Nick Cave and Tom Waits in their more feral personas - not at all the tasteful fare we were expecting.
Most of the rest of the record is rather more restrained. Do No Harm is a particularly fine example of the album's guitar and violin interplay, a great groove which shows the band's ability to play just enough, and refuse any hint of showing off.
While the album's other instrumentals are always melodic and appealing, the album's peaks lies elsewhere. Chasing Rabbits, for instance, contrasts life's moments of joy with the time when
"the breath leaves your lungs..."
Weather metaphors abound throughout (
'"the storm rises up and alters the view"
, says Let the Storm Be Your Pilot). But as often as he intimates danger, Fisher pays tribute to his beloved. Love You Apart pledges "
you are my reason for waking...your goodness will save us / it has from the start
". Meanwhile, Saturday With Jane preserves a perfect moment, all the more precious for its everyday nature.
But it's not all short-form existential musing. On an album of haiku-like two-and-a-half-minute meditations, the six-minute I Could Not is a thing of fearsome beauty. Fisher's bluesy vocal comes across like Mark Lanegan sings late-period Johnny Cash on this sparse, bruising lament. Strong meat indeed.
Posthumous albums are not without their pitfalls, but
Untethered
is a worthy addition to the Willard Grant Conspiracy canon. It has a handful of truly great songs; lyrics as evocative as ever; and a deeply affecting emotional candour. There are too many slight or half-finished songs and instrumentals to call it a classic. But it stands up well, and vindicates the determination of Fisher's long-time friend and collaborator David Michael Curry, to 'honour the memory of the band'.
8/10
Willard Grant Conspiracy Links