The Willard Grant Conspiracy @ St Pancras Old Church, London, 14.09.15
Atmospheric and richly rewarding, this is one Conspiracy you'd be pleased to join...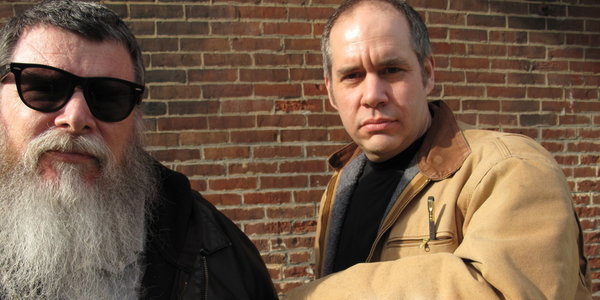 The Willard Grant Conspiracy
is a shape-shifting beast. Over the band's 20-year history, main man Robert Fisher has been joined by a revolving cast of musicians live and on record. Tonight, at Kings Cross's ancient and sublimely beautiful St Pancras Old Church, it is a three-piece featuring long-time collaborator David Michael Curry (viola, saw) and Jonah Sacks (cello).
The band has explored a variety of different musics over the years but its current persona is hushed, atmospheric and cinematic. Fans of Nick Cave and the Bad Seeds, Lambchop, Mark Lanegan at his most sepulchral and the mighty Johnny Cash will find much to enjoy here. Fisher resists the alt. country tag and it might be fairer to call this 'desert music', its wide-open spaces and slow-paced musings deeply rooted in the landscape Fisher calls home. Many of tonight's songs come from the band's most recent album
Ghost Republic
, a work themed around the ghost town of Brodie in California's Mojave Desert.
In person, the heavily bearded Fisher exudes gentleness and bonhomie. Nevertheless, his songs are often rooted in tragedy: opener 'Ghost of the Girl in the Well' sets the tone, gripping us with its first-person tale of a girl 'murdered by a man who owned my family'. Full of evocative detail and soaked in blood, these songs are steeped in that good ol' Southern Gothic.
Fisher's vocals are often conversational and low-key, though he has a fine powerful baritone when he chooses to let rip, and his acoustic guitar-playing is similarly subtle. It's up to Curry to provide most of the musical colouring: his saw-playing conjures up a theramin-like spookiness, while his viola sometimes leads the melody, and on other occasions provides an ominous John Cale-esque drone.
As with pretty much all rootsy American music, the spectre of death is rarely far away on tunes like the elegaic 'Perry Wallis', a portrait of a cowboy facing his last breath, his boots '
all wore out
'. But while the powerful simplicity of Old Testament language seems to be an influence, religion itself doesn't appear to be. Instead, this is intensely humanist music which looks hardship and struggle straight in the face and finds solace - if at all - in our fellow humans, as on the surprisingly romantic 'Soft Hand'.
While most of the songs are fairly sombre in tone, the gig is a pleasure, thanks to the quality of the material, Fisher's between-song monologues and the humour and perspective in both the band's delivery and lyrics. Musically, too, there are light-hearted moments: Curry takes the mike for a quirky little number which makes you think he should write more.
The rapt and respectful crowd, and the venue's superb acoustics, enable us to hear every nuance. And, just when you'd had them typecast, the band shows it can still rock out, even in its present incarnation: the Bad Seeds-esque closer 'Let It Roll' is positively epic.
The Willard Grant Conspiracy don't deal in teenage kicks, and they will never be flavour of the month. But they're bloody good...
Willard Grant Conspiracy Links