Willard Grant Conspiracy: Ghost Republic (Loose Music)
Veteran US alt. country act return with excellent tenth LP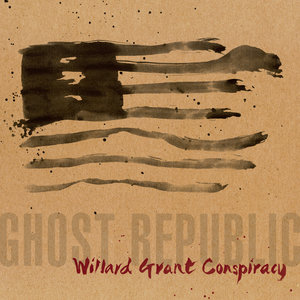 Alt. country types
Willard Grant Conspiracy
have been going since the mid-90s, consisting of singer-songwriter Robert Fisher and a rotating cast of whoever he fancies playing with at the time.
Ghost Republic
, their tenth studio album, sees Fisher hooking up with long-time collaborator and demon viola player David Michael Curry. Between them, they have crafted an evocative, cinematic record that sounds a bit like Mark Lanegan and Lambchop's Kurt Wagner soundtracking a Coen Brothers Western with a touch of later-period Johnny Cash. Sounds pretty handy, huh? It is.
The songs from the album came together after Fisher was asked to collaborate on a book of poems inspired by Bodie, an abandoned mining town high in the Sierras. His words started to sound like songs, and before he knew it he was writing this record.
Spare, classy and largely acoustic, it (successfully) attempts to evoke the harshness, solemn beauty and occasional consolations of what Fisher calls 'a land with teeth and venom... A place for the forgotten and for those the rest of the city wishes to forget.'
Fisher's vocals alternate between a conversational murmur and a sweet baritone. These are accompanied by spacious arrangements of acoustic guitar, viola, violin, occasional piano, and as the mood darkens towards the end of the record, some expertly modulated feedback.
Most of the songs are quite brief, sometimes seeming like sketches, musical haikus without a wasted note or syllable. There are a few instrumentals scattered among the songs. Opener 'Above the Treelines' strummed guitar, twinkling piano and mournful viola sets the scene: this is music that knows its worth, and is going to take its time. It's classy, slightly austere and timeless.
The standout instrumental is 'The Early Hour', whose appearance darkens the tone of the album, like the killer riding into town in a Morricone film: What is initially a pretty acoustic instrumental, garnished with ambient noise like a field recording, is gradually overwhelmed by beautifully controlled feedback.
After the subdued sonic palette of the first two-thirds of the album, this has greater impact than it would on a noisier record. It sounds like Neil Young warming up for a Crazy Horse gig while someone tries to fingerpick over the campfire, the perfect musical metaphor for the universe's never-ending battle between order and chaos.
The ominous intro and gothic atmosphere of 'Incident at Mono Lake' continues this tonal shift, with its talk of '
regulating contraband
' and a feeling that Very Bad Things are about to happen. Elsewhere creepy instrumental 'New Year's Eve' continues the feedback vs. acoustics theme, before the mantra-like simplicity of closer 'Oh We Wait' turns things full circle.
Before Fisher turns the spookiness dial up, the record has given us a series of musical vignettes, character studies that sketch a person or situation, briefly but convincingly.
'Perry Wallis' depicts the death of an old man, and the rapid redistribution of his belongings. Hell, life's for the living and it's a long time until the next supply wagon turns up...
'Ghost Republic' is an ambiguous ode to a lover (
'when I think of you, I think less of me'
), while 'Rattle and Hiss' sees the danger posed by a rattlesnake as a darn sight more immediate, and believable, than the faith that nominally binds this community together.
This is quite a solemn LP, but at its heart is a kind of Mid-Western Zen that can also be found on Lambchop's records, an ability to take pleasure in the tiny details of life that make it all worthwhile.
'Good Morning Wadlow' is a 'count your blessings' song that sounds like a tribute to Fisher and Curry's long-lasting friendship ('
Good morning to / the brother
who has never lost his thread
.') While 'Piece of Pie', the first song Curry has written for 16 years, is a touching plea to an aggrieved lover that all will be OK in the end.
Understatedly poetic and expertly crafted, this is a fine record, and a grower. Here's to the next ten albums, Mr Fisher...
Willard Grant Conspiracy Links