Tallies: Patina (Bella Union)
Dream pop par excellence: Toronto band serve up superb second album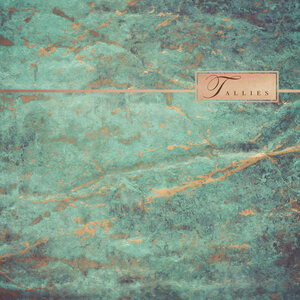 Announcing their arrival with their
eponymous debut set in 2019
, as their
recent live shows
and lead singles have suggested, the second LP from Toronto dream pop outfit
Tallies
looked set to be an impressive affair.
Patina
proves the anticipation was well placed as the outfit have sharpened their songwriting skills and broadened their sonic palate since their first album.
Highly refreshing in an age when some album tracklistings are bloated to push up streaming numbers, the set clocks in at a commendably lean nine songs. Drawing inspiration from indie icons The Smiths, The Sundays and the Cocteau Twins with possibly a smidgen of Lush's shoegazing guitar textures, the quintet stamp their own identity on such storied influences. Centred around Sarah Cogan's siren like voice, the beautiful shimmer of Dylan Frankland's guitar work and the pinpoint drum work of Cian O'Neill, Graham Walsh from art rockers Holy Fuck co-produces alongside Frankland.
Deft production touches are apparent from the off, as the guitar phrases in beautiful opening cut
No Dream Of Fayres
are backed with subtle inhalations of breath. Showcasing a bolder, more forthright approach throughout the disc, the superb, sulphurous
Wound Up Tight
sees the band bare their fangs, as a series of scuzzy guitar motifs swirl between Cogan's distorted lead vocal.
Memento
further demonstrates widening of the group's sound as its descending guitar melody is gently pulled out of shape by textural washes. The offbeat chord progression and sampled handclaps of Am I The Man along with the harmony laden Catapult, accompanied by subtle cello shading supplied by Arcade Fire associate Michael P. Olsen illustrates the group's development.
Highlighting their knack for impressive singles,
Hearts Underground
is one of the group's most immediate songs, a summation of Tallies' appeal in under four minutes. Elsewhere Heavens Touch plus excellent recent single
Special
underline the outfit's capacity for minor key guitar pop as does When Your Life Is Not Over, which concludes with a repeated chorus of "
You learn to love lonely
". Referring to an element associated with a precious object,
Patina
proves to be an apt title.
4/5