Lorelle Meets the Obsolete: De Facto (Sonic Cathedral)
Mexican psych stalwarts return with a strong new entry to their catalogue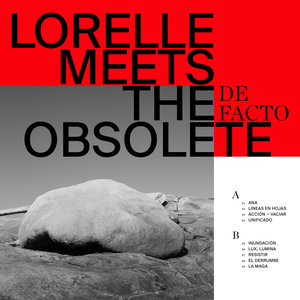 Carving out their own niche as purveyors of drone infused space rock,
De Facto
sees
Lorelle Meets the Obsolete
make some stylistic changes. The fifth LP by the Mexican space rock duo, the set continues the outfit's psych explorations, this time with less reliance on guitars and for the first time the entire lyric sheet in Spanish. Recorded at the band's home studio in Baja California, where previous albums by Lorena Quintanilla (Lorelle) and Alberto González (The Obsolete), saw the duo playing all of the instruments,
De Facto
sees them joined by their live band.
Written principally around synth lines and drum patterns and tracked in one room as a quintet with Fernando Nuti (bass), Andrea Davi (drums) and José Orozco (synths), the propulsive grooves recreate the hypnogogic atmospheres of the group's live shows. Lead single
Ana
and the descending synth lines of Inundación possess the chilly synth swept vibe of Bowie's
Low
, transplanting Cold War era Berlin to far sunnier climes but losing none of the edge. Unificado begins akin to Spiritualized's vast
Ladies & Gentlemen
closer Cop Shoot Cop, a soft patter of drums and a recurring guitar figure that changes tack four minutes in as the vocals give way to an oscillating motorik groove.
Superb second single
Linéas En Hojas
is vaguely redolent of early New Order with its scrawled guitar line and gliding melody while Resister where the guitars are pushed into the foreground has the ramshackle vibe of US indie rock. Acción – Vaciar is sinister post punk that alternates between a spidery guitar riff and upbeat synth led choruses, elsewhere the expansive alt. pop of Lux, Lumina is the sound of Stereolab being tempted over to the dark side.
Synth drone El Derrumbe provides the bridge into La Maga, a suitably hypnotic conclusion that ebbs away after ten mesmeric minutes with the sound of waves lapping on the shore. Five albums in,
De Facto
adds an impressive, slow burning new addition to Lorelle Meets the Obsolete's reputation as psych stalwarts.
4/5
Lorelle Meets the Obsolete Links