run, WALK! @ The Green Park Tavern, Bath 28.10.11
Armed with a fierce determination, an eye for style, an ear for the simple yet potent powers of rock and roll, and also copies of their Greasy Soul EP, The Dynamite Pussy Club are the hard working unit of Chris Mitchard (guitars/vox), Danny Le Guilcher (guitars/percussion), Edward Calvert (drums). Songs like 'Under the Groove' and 'Crazy' are party mood infusers, oozing their garage aesthetic. The combo of twin guitars fairly swarms, Mitchard's faux-American shtick is charming, Calvert's hammer blows could put dents in a tank, but it is Le Guilcher who captivates most, with rhythm/lead crossover parts that counterbalance everything perfectly, and an energy and focus that sets the tone for the night's high octane adventures. These are the boys behind 'Killing Moon'- promoters with a penchant for noise, and our much-loved hosts for this evening.
Oct 28th, 2011 at The Green Park Tavern, Bath / By
Cloudrunner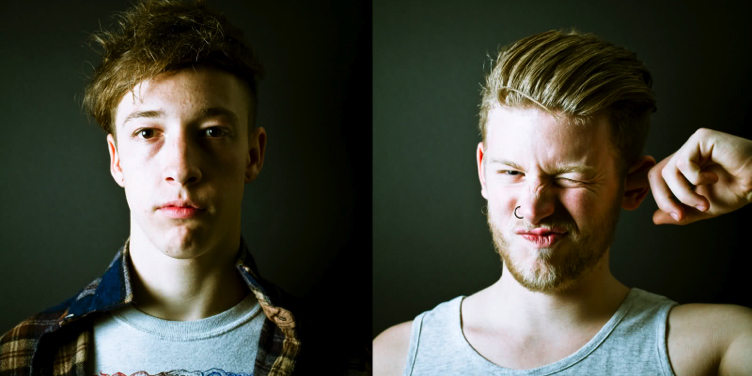 Big Joan
are the well established Bristol four-piece, with an intense and inventive stage act that, musically, fuses all sorts of exciting elements from across the 'alt' genres giving the expectant crowd a whole lot more than a standard drums/bass/guitar/vocals set-up with brilliant synth and percussive elements. Visually they are as dynamic as they are arty. The songs are as absorbingly direct in their impact as they are absorbingly artful in their structure and arrangement. A dirty and dark dance punk grinding bass guitar grips hold and doesn't let go, guitars graze at the inner ear, syncopated beats roll and flow with great invention from Keith Hall, and vocalist Annette Berlin covers everything with tight aggressive melody and sultry charm in perfect balance. Everyone loves a German girl singing through a telephone and banging a dustbin. Everyone.
Sister/brother, Bath/Bristol, bass&vox/drums duo
The Hysterical Injury
are another of the South of England's lesser-known live triumphs. In fact there are surely only a few in the world who can turn such a relentless, all encompassing sonic barrage into something of such beauty. Future noise-pop bite sized classics such as 'Cycle One' and 'Maths' stand up alongside more epic fare. Skill and passion collide in majestic interplay, building into a wall of sound that feels almost solid. Tom Gardiner hits driving rhythms with great precision, he is methodical, mesmeric and not too overly technical, despite showing perfect technique; the perfect foil then for Annie Gardiner's pulsating melodic riffing and vocal gunslinging. Here is a band whose high performance level seems to come from them being at one with the material. This is also apparent in Annie's lyrics, words that lend an intellectual weight to the songs, adding intrigue and mystery and supporting the wall like a spine. This uniquely talented pairing has their debut LP coming out in early 2012.
Again, a bass and drums duo with a name that inspires thoughts of duality,
run, WALK!
are rather like a teenage sibling in the noise-rock/pop clan. They brim with talent and potential, they utilise the contrast between the melodic and the damn right destructive well, they play with all the passion and exuberance of youth that is sadly lacking in more mainstream youthful bands, yet the combination of Tom Clements (drums) and Matt P Copley (bass/'marmite' scream-y vox) is not a multi-dimensional or hugely thought provoking affair, they simply have a direct thematic content to their performance, which can be compelling. Certainly their use of sound shows knowledge and vision, dynamically they too have much to offer. The hardcore vocals will not be to everyone's taste, but so what? This is certainly what they love doing and at it's best borders a line between primal and fine art. Expect endless evolution and experimentation to come - all the signs are there. This is still the beginning of the journey.