Andrew Bird @ The Barbican, London 05.03.12
Stating that he got into whistling because his hands were already tied up with other instruments might explain something of an Andrew Bird live performance, in which every soundmaker at hand becomes employed. But don't be mistaken into thinking the classically trained violinist ever tries to do too much at once.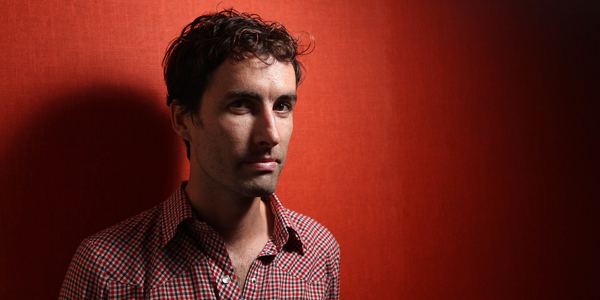 Stepping out onto the Barbican's stage for the solo opener 'Hole in the Ocean' the Chicagoan multi-instrumentalist indulged both audience and himself - his jostling and swaying a sign those present were not alone in falling under the spell of his captivating compositions - in a multitude of intricate melodies before bursting in with his troubadour tenor: "I awoke with a start..." Ever the songwriter to tackle the more left-field of subjects his lyrics covered everything from selective memory ('Lazy Projector'), a Benjamin Button-esque love story ('Sifters'), the sinking of the ship the 'Lusitania' and celebration in survival ('Near Death Experience Experience'). Playing new record
Break It Yourself
, released the morning of the performance, in its entirety Bird stated it to be his most "ceremonious", and certainly numbers like current single 'Eyeoneye' were the closest he may come to an anthemic crowdpleaser, it gaining uproarious applause only marginally outdone by those preceding
Armchair Apocrypha
favourite 'Plasticities'.
A few hiccups aside which Bird put down to nerves and embarrassment; quirkily likening the two to a headrush, he and his three piece band have grown noticeably brasher in their live performances. The vigorous scratching of violin strings layered upon itself created a warmth during the instrumental interludes which separated rootsy barnstorming numbers such as 'Danse Caribe' and 'Orpheo Looks Back', while the dual headed phonograph, now synonymous with Bird's performances and almost an extension of the man himself, echoed his performance as he switched between violin, guitar, whistles and handclaps, all the while dictating the horns rotations as it spun echoes of looped vocals, violin and reverb into an ethereal aura both cinematic and hypnotic.
Though the crackling of speakers throughout the night perhaps was not supposed to be; their white noise shuffled around the Barbican's sold out auditorium like a ghostly echo of all the songs and melodies this Chicagoan created and recreated before the transfixed house. It felt like a fin de siecle magic show at points, and when the lights dimmed during these sonic interludes, with the band shrouded in darkness and the illumination on the phonograph or "spinney" alone it became hard to tell where this music came from despite it being layered and created before the audience just moments before.
Returning for an encore which included Charley Patton's gospel song 'Fatal Shore/Goin' Home', on which he was joined by guitarist and bassist on harmonies, followed by The Handsome Family number 'So Much Wine' - a ragged bluegrass ragtime fusion - it was easy to tack much of Bird's musical roots to Civil War folk songs, however the breadth of sonic scope displayed in his original material is proof of an inexhaustible pool of musical appreciation from which his talents spawn.