Andrew Bird @ The Roundhouse, London 08.11.12
For one night only Andrew Bird hit the UK to promote his latest paired releases, 'Hands of Glory' and 'Break it Yourself'. Bearded was there for a rather dignified Thursday night in Camden.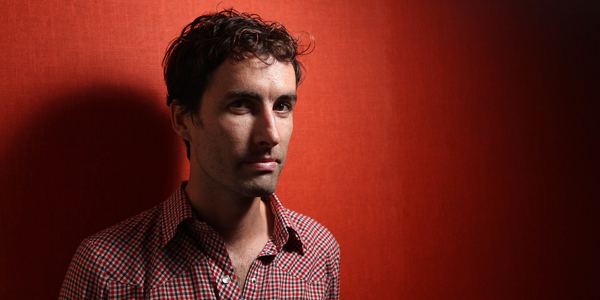 Andrew Bird
, the Northwestern University music graduate, takes the stage alone with violin in hand while large 'Siamese' Victrola horns whirl in the background like helicopter blades. Opening with 'Why?', an ambling solo violin and voice piece processed through a loop station steps out from the hackneyed trail of singer-songwriter loopwanking by virtue of Bird's controlled and inventive violin playing. His playing is subtle and thoughtful while making full use of the instruments' possibilities, he builds rich chords, scrapes and thuds chunky textures, and pounds and plucks a beat. It's a show of emotional drama that teases ornate, oriental-sounding solos out from the instrument inbetween theatrical vocal mumbles and wails. It is overwrought, audacious and a statement of intent; Bird is not going to give groove or catchy choruses, instead he spins audio curveballs at you and keeps the audience second guessing his arrangements. This is an audience that waits less for familiar lyrics than for uncanny arrangements twisted cleverly in live performance. In this vein Andrew Bird's performances can at times draw similarities with those of artists such as Sufjan Stevens or perhaps even Sigur Ros.
Relying largely on material from
Break it Yourself
, the first half of the set has Bird ranging dynamically from the stomping indie-pop of 'Fiery Crash' to the hushed melancholy of 'Desperation Breeds'…
While the sound is much richer and dynamic live than on record, a certain drive is missing from the full band material and at times it lacks some of the spirit of the recording. However this is a set of two halves and after only three quarters of an hour Bird strips his band down to an olde time three-piece of acoustic guitar, upright bass and violin. These shorter songs are performed unplugged around a single microphone and it is testament to the intimate power of music that this simple and understated setup grips the audience in a way that the previous full-band set occasionally fell short of. 'Savoy' from 2009's
Andrew Bird And The Mysterious Production of Eggs
is stunning and conveniently immortalised on
Youtube
.
For the encore Bird begins with a cover of Townes Van Zandt's 'If I Needed You' that features on
Hands of Glory
. For those unfamiliar with Van Zandt's work, an afternoon spent exploring his poetic American folk songs is unlikely to be wasted. Bird brings a Celtic/Appalachian feel to the piece that is beautifully dealt with, and this is Bird's performance in a nutshell: He manages to tastefully meld folk, classical and indie traditions into a natural sound that is exciting and unique. Inevitably, at times it strays into the realm of the self-serving, but when performed so intimately the audience is engaged and hanging on every note.