Sage Francis - Copper Gone (Strange Famous)
Rhode Island's finest releases fifth LP, issued in the UK by Scroobius Pip's Speech Development Records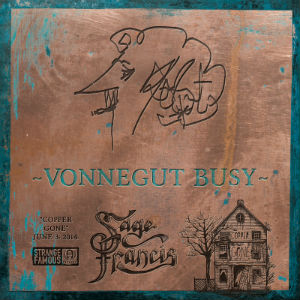 Sage Francis
, hailing from Providence, Rhode Island, is a name anybody who is a fan of independent rap music will know more than well. His unique delivery style, intelligently crafted lyrics and the hint of a punk rock influence all meet to create an absolute beast when it comes to the bars. 'Copper Gone' is Sage's 5th solo album, and is being released in the UK under Speech Development Records, a label owned by the UK's leading spoken word artist, Scroobius Pip, and it's certainly an engaging listen.
The album kicks off with 'Pressure Kicker'. It's good to hear Sage spitting fast paced rhymes so percussively, complimenting the rock influenced instrumental. The internal rhymes Sage demonstrates on this opener set the course that the album will take.
Sage Francis
really is an incredibly talented writer. Tracks like 'ID Thieves' are packed with drama and real feeling. Sage has a cadence and tone of voice that packs so much punch, and his ferociously delivered lyrics hit harder than your average rapper.
Sage rides a good line between all out hip hop and spoken word. The range of his vocabulary and way of expressing himself verbally sets him apart from many other independent rhymers out there at the moment, and if there was ever an artist suitable to push Sage's music to a UK audience it's Scroobius Pip. The production lends itself to this as well, since if you have an artist pushing so many boundaries in their lyrics and flow, the instrumental side of the album must also go beyond the ordinary.
Copper Gone
has a clear rock influence throughout several songs, yet the electronica featured in tracks such as 'Dead Man's Float' and 'The Place She Feared Most' really keep your attention; this is certainly a very diverse project.
Copper Gone
is an interesting album, with a great display of lyrical prowess. This is an intense hip hop album, with Sage Francis exploring a huge number of topics, from socio-political situations to simply just barring it out. It's always refreshing to hear boundary pushing hip hop albums, and
Copper Gone
is certainly that.