Sage Francis @ Brudenell Social Club, Leeds 17.10.14
Sage Francis commands a huge amount of respect, and deservedly so. He's consistently been putting out high quality, personal music since 1999, with his first studio album being released in 2002. This year saw the release of his project 'Copper Gone', and he's taken it on tour; tonight's show is at the Brudenell Social Club in Leeds, and the anticipation builds around the intimate, yet spacious venue as we await the man himself.
Oct 17th, 2014 at Brudenell Social Club, Leeds / By
Sam Bennett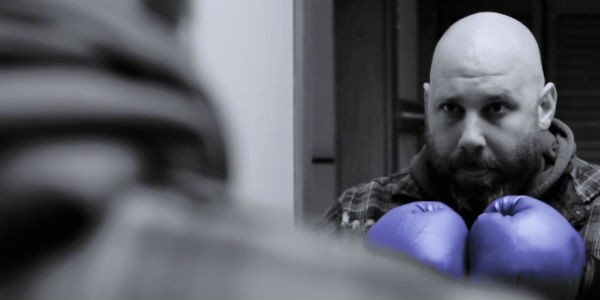 Sage storms onto the stage, donned in a huge Strange Famous Records flag and launches into 'Escape Artist' from his 2005
A Healthy Distrust
album. It is clear from the get-go that
Sage Francis
is a seasoned veteran in the rap game, and he displays his tight, flawless flow while maintaining eye contact with the audience, and this really allows them to relate to the passion on show. He follows this with a resounding and animated performance of 'Crack Pipes'; the energy Sage displays on stage is infectious, and the heartfelt nature of the lyrics is really felt in his delivery. As the booming kick drum of 'Vonnegut Busy' thumps through the speakers, Sage's gritty tone has real clarity, and he drops into a rapid flow with ease. This is an aggressive and passionate performance right from the outset.
Sage Francis claps forcefully as the heavily synthesized beat of 'Agony In Her Body' resounds around the venue, releasing a cloud of dust into the air. Sage Francis' undeniable versatility is clear to see, and his animated performance always holds my attention, and the rest of the crowd is no different. Sage announces that it's been ten years since his last show in Leeds before launching into the emphatic 'Grace', and his savage flow and delivery is once again impeccable. He then runs through the fantastic 'Got Up This Morning', from his 2007 album,
Human The Death Dance
, and the bluesy instrumental with a crunching snare backs his intricate writing, and the entire crowd is captivated. The melodic flow mixed with an aggressive tone is very effective as Sage performs 'Thank You', before delivering a moving and passionate acapella, demonstrating his flawless spoken word ability.
Sage Francis then delivers a resounding performance of 'Sea Lion', with real energy on stage, spitting his heart out to the hypnotic instrumental. Following this, Sage parades around the stage as 'America, Fuck Yeah' from the
Team America
film fills the venue, before launching into 'Makeshift Patriot', and his percussive flow and actual content is definitely well received. Sage Francis has always had a reputation for rocking abstract beats, and 'Mourning Aftermath' is a case in point, and his performance is relentless, and his experience and confidence when performing live is clear to see tonight. Sage tackles various different concepts, but each of them is clearly close to his heart, and this translates well as he runs through 'Over Under', 'Dead Man's Float' and 'Water Line'. His cut-throat analysis of society, and his inspirational, but also very credible and believable performance captivates the audience.
Following a heavy acapella, Sage picks the energy levels straight back up with a rapid flow on 'Civil Disobedience'. He follows this with 'Dance Monkey', and the anthemic instrumental sets heads nodding back and forth. There is always a message to Sage Francis' tracks, and it's definitely being delivered consistently tonight. As he runs through 'Jah Didn't Kill Johnny' and 'Bridle', his delivery is flawless, and is always engaging to watch on stage. He follows this with the outstanding 'Make Em Purr', and the personal performance is fantastic; Sage's raw delivery and aggressive flow is clear to hear. It's great to see an artist tackling real issues, and this translates exceptionally.
Scroobius Pip released Sage's 'Copper Gone' album through his Speech Development Records in the UK, and the man himself joins Sage on stage for two songs. They both deliver a resounding performance, with Scroob going in over M.O.P.'s 'Ante Up' instrumental with pure heaviness. They then run through 'Let Em Come' from Pip's 'Distraction Pieces' album, and the chemistry between them is clear to see, as is the charismatic stage presence. Sage Francis closes the show on 'The Best of Times'; tonight he has always been heartfelt and believable, and it was a truly memorable and professional show from an outstanding lyricist.