Hannah Peel - The Broken Wave (Static Caravan)
London folk songstress Hannah Peel dream-like harmonies get us lost in her debut record.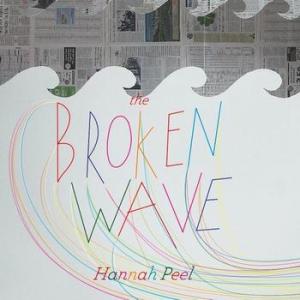 Off the back of a tour in support of Appalachian wonder Sam Amidon and since her childhood encouraged by her father, whom she played violin alongside back in Ireland,
Hannah Peel
has always been in good hands. She's also worked with David Ford and the Unthanks, while Mike Lindsay of Tunng helped with the production of this month's release.
The Broken Wave
is Peel's debut LP and is full of the kind of rich, often theatrical instrumentation Rufus Wainwright would be envious of. As a highly accomplished musician she plays almost every instrument featured; from trumpet, violin and piano, flitting from the chiming of the latter on 'Today is Not So Far Away', to the violin led 'Don't Kiss the Broken One' and waltzing piano ballad 'Solitude'.
The lyrics themselves are full of a wishful whimsy: little songs of escapism to the sea aboard a tiny vessel, broken hearts and death. The prettiness of the instrumentation surrounding these narrations however often belies the darkness at their core. 'The Almond Tree' centres on death, yet this theme finds itself somewhat hidden by the diversity and density of instruments. While the intriguing percussion that serves to hush her already breathy, wispy vocals shelters them perhaps a little too much. Whatever meaning there is beneath the surface is often lost in stories and fairytales of a fanciful proportion, that while beautifully delicate don't seem to have the weight enough to stand alone without climactic mini-orchestral scores. That said, the vocal harmonies and chanting choruses beam through, adding a human pulse to the dream-like majesty of this young artist's arrangements.
The Broken Wave
is a hugely enjoyable record that is neatly and intelligently constructed whilst never demanding too much of its listener. With this in mind, on the face of it this debut could succumb to being grouped together with the likes of the 'more twee, less talent' individuals joining the British folk brigade at a steady if declining pace. Peel of course proving the exception to this rule. This would be an unfounded judgement however, for while folk it is and masterful at that, with her impressive collaborative efforts, association with acclaimed musicians and above all an undeniable talent as a musician and composer, things should neatly fall into place. Let's just hope she is received as more of Laura Groves' moniker Blue Roses, full of flourishing talent, rather than a folk fad denied proper prolonged appreciation.