Haiku Salut: There Is No Elsewhere (PRAH Recordings)
Excellent third helping from genre scanning trio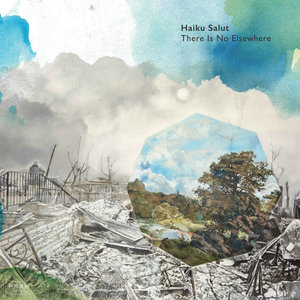 Straight outta Derbyshire,
Haiku Salut
is a trio of multi-instrumentalists - Gemma Barkerwood, Sophie Barkerwood, and Louise Croft – who between them play accordion, piano, glockenspiel, trumpet, guitar, ukulele, drums and melodica, with a lacing of electronics they refer to as "loopery and laptopery".
This is their third album, following an acclaimed 2013 debut
Tricolore
and 2015's
Etch And Etch Deep
, which The Observer described as "the album Four Tet might have made after Rounds". The band themselves cite as influences the evocative film soundtracks of Yann Tiersen and Benoît Charest, and the electronica of early Múm.
There's an element of dreampop too in tracks like the glockenspiel-laced For Twinklr and We Are All Matter, the latter livened by a blast of what sounds like a digital hurdy gurdy. In a similar vein, Nettles mixes gently swooping sections with more skittish percussion-led interludes.
The best tracks, though, channel a sort of pastoral electronica. The excellent opener Cold To Crack The Stones adds brassy adornments (from Glastonbury Brass) to sweet whoozy electronica and a manipulation of a NASA recording of pulses emitted by lightning, while the gorgeous The More and Moreness has the epic folk sweep of The Unthanks gone digital.
I Am Who I Remind You Of, meanwhile, is a 7-minute long mini pastoral symphony mingling treated ethereal vocals over synth squeezebox and glockenspiel, while Shadows provides a slow drifting finale as if wafting us off to an idyll.
Other tracks offer pleasing variety. Occupy nods to the excellent Ms John Soda, while Bow Wood channels a stately piano-led reflectiveness. There's more piano on the beautiful Choke Points, adorned with Pat Metheny-like guitar lines as it conjures up a sense of big landscape.
This is a beautiful album that shows you can make a big impression with delicacy.
8/10