Haiku Salut - Etch And Etch Deep (How Does It Feel To Be Loved?)
Multi-instrumental trio follow up acclaimed debut LP with superbly nuanced second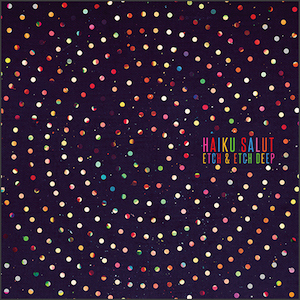 A quote from someone several years ago compared
Haiku Salut
to "Sigur Ros if they were skint and living in the East Midlands". It's probably a good thing that the citation can't be remembered - while this wondrous piece of work is armed with parts epic enough to rally the Icelandic giants themselves, that person can indeed be issued with a knife and fork for their words.
Since 2010, the Derbyshire-based trio have been carefully rotating themselves around pianos, organs, glockenspiels, guitars, accordions, drums, samplers, ukeleles, trumpets, melodicas and if that's not enough, around a dozen lamps for their outrageously sensory-satisfying live shows. So with all that in mind, it's fair to say that the best part of half a decade for three people to round up what seems like, on paper, an instrumental faffageddon, into one of the most exciting upcoming acts in the UK is a delightfully realistic timescale.
Etch And Etch Deep
is alive and jumping with kinetic structure only more progressive. You can imagine various timelapses of weather patterns, natural and man-made Earth landscapes as visuals… or something like that. Of course, considering a band with a particular timbre such as this, there are distinct likenesses to connect with but the dissimilarities to their debut LP
Tricolore
emerge from the first listen, and the first track itself, 'Bleak And Beautiful (All Things)'. Polyrhythms, irregular time signatures and whimsical vocal lines (not of the lyrical kind) are welcomed into Haiku's encyclopedia of sound. Minimal phrasing of simple chords has often been their thing, while the textural intricacies are more frequent, take for example: 'Divided By Surfaces And Silence' – long, thick lead chords over an intertwining complexion of beats and percussion. Sort of like a fat person sitting on a big pile of twigs.
If we're talking natural Earth timelapse equivalents, 'Things Were Happening And They Were Strange' is the token storm track without a doubt. Most definitely a highlight, it's rife with melancholy uke-looping wizardry, uncompromising low synths and pounding drum frenzies. The vocal looms over the mix like some haunting spirit, while the structure is fragmented and characterised. 'Skip To The End', on the other hand resembles a network of tiny frozen streams up a mountain, gradually beginning to thaw as spring approaches. It almost resembles an early Four Tet until the main tune is introduced. Here trademark Haiku melodies come in so suddenly it's enough to make you physically jump.
'Foreign Pollen' is an appropriate ender, albeit not as Euro-rave as that of the previous album. This is however, not a problem, and in fact it's equally exciting, most probably capable of leaving the listener in a positive frenzy of multi-instrumental haziness.