The Tattoodo Flash Weekender Is Here!
Ink and Audio in One Convenient Location in Shoreditch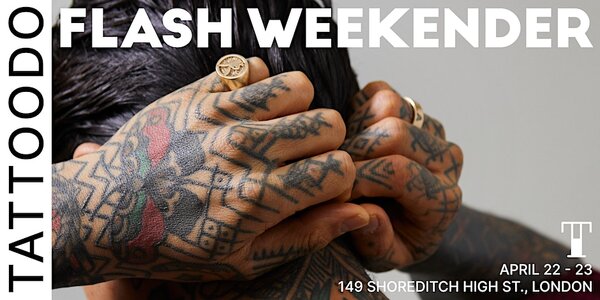 Everyone knows how well music and tatt's go together. Like soft cheese and a nice red, swimming in summer rain. Or Phoebe Bridgers, Julien Baker and Lucy Dacus of Boygenius fame. In fact, the stunning supergroup beautifully highlight our point. Take just a cursory glance over your favourite musicians, and you'll see a glut of meaningful moments writ large on bare skin.
Yes, it's safe to say music and tatts seem destined to sit together forever. Little wonder, then we are super excited to announce a weekend of music, drinks, prizes and (drumroll please) FREE FLASH TATTOOS for those who find themselves in Shoreditch weekend!
Celebrating the London launch of the Tattoo booking platform
Tattooodo
, from Saturday April 22nd to Sunday 23rd you will be able to peruse much hot talent in one convenient location, maybe even snagging yourself a nifty new 'flash tattoo' (45 minutes or less, from a selected list) for absolutely nada!
But what is Tattoodo? We hear you cry. So glad you asked. Fresh new ink usually has a thought, a purpose. A special meaning. So, naturally, you want to find the best artist to use your body as a canvas. AND make that portrait pop!
Lucky for you talented co-founders, Ami James - acclaimed tattooist of Miami Ink - and ex-Liverpool football player Daniel Agger, have created this app to help you find that special artist. Just think of it as Tinder for tatts! Simply upload your design, size and general comments and get matched with tattoo artists far and wide. Here, you can check out their work, locations and availability to make that oh so special connection a reality.
Lucky for you (and us) Bearded will be checking this event out on Friday 21st April, ahead of the weekend, so look out for updates on all things live in the ink and audio world! So stay very tuned for updates.
We'll have a drink, have a dance to live music, and all while meeting some of the best artists of the moment; Mario Teide, Matty Magee, Gabriele Cardosi and Chloé Mickham, amongst many others! (Probably best to stay still when being tattoo'd though ey?)
Full line up, details and most importantly tickets can be found on the Tattoodo Eventbrite
page
.
April 22nd & 23rd, 149 Shoreditch High St., London