Mower Return After 12 Year Hiatus for London Gig
Indie rock trio return for live show at The Sebright Arms, London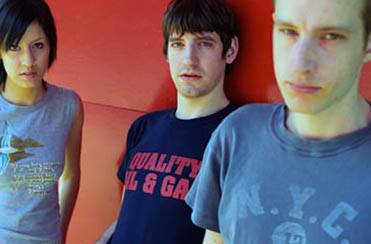 Give Give Give Me Mower Mower Mower...
Twelve years after their messy implosion, kick-ass three-piece
Mower
have reformed for a gig at Bethnal Green's Sebright Arms on Thursday 1st October. The second-album line-up of singer/songwriter/guitarist Matt Motte (Mat Motte and The People That Hate Him, Shock Horror), drummer John Barrett (Eat Lights Become Lights, Stats, Eugene McGuinness) and bassist Nash Trevelyan (Wonder Lanes) are back together, having a ball and ready to reaquaint London's gig-goers with their primal power-pop with attitude. They promise songs from both the band's albums, plus various B-sides and rarities.
Back in the day, the band were signed to Graham Coxon's Transcopic Records, and the man himself produced 2001's self-titled debut album. Hedonistic and attitude-heavy noisepop, its mix of witty lyrics, powerhouse drumming and distorted, melodic Pixies/Nirvana bass won acclaim from the likes of Time Out, the NME and Mark Radcliffe (the then-BBC Radio One DJ called the band 'the new millennium Kinks on speed'!)
The second album saw a change of line-up to the one that will play The Sebright Arms. The quiet/loud dynamics and Cobain-esque screaming were still present, but with Stephen Street producing, the first album's lo-fi, punky vibe was transformed somewhat with arangements fleshed out, and slower tempos and a more contemplative approach on some numbers.
Mower were a hard-partying, road-hardened gigging machine in their day, playing with the likes of British Sea Power, The Futureheads, The Ordinary Boys, Jet and Drugstore. Celebrity fans at their gigs included Noel Gallagher (who dug the band's softer side), comedy superstar Sean Hughes and Sophie Ellis-Bextor.
Nowadays, the members of Mower have day jobs, fatherhood and academia to consider. But, all being well, they plan to play more gigs and there may even be some new material in the pipeline. Come 1st October, they plan to reconnect with their younger and crazier selves, playing - as NME said - 'music that douses itself in gasoline and plays with matches, always on the verge of... self-destruction'. Sounds like fun, eh?
Mower play The Sebright Arms on 1st October