Joint Brighton Headline Show From Oddfellow's Casino & Greenness On Sept 30th
Brighton based promoters Melting Vinyl host scintillating double bill at St. George's Church on Sept 30th, to be live streamed on Oct 13th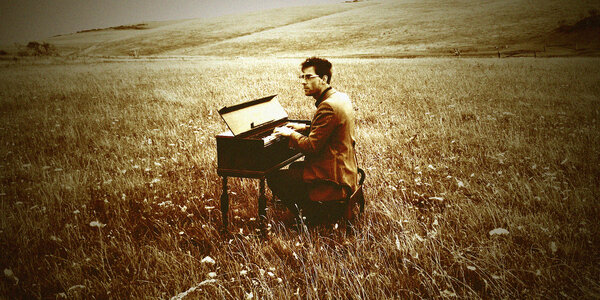 St George's Church in Brighton will see the return of audiences for the first time since the Covid outbreak last year, with a double bill on September 30 featuring trippy Anglo-French folktronica duo
Greenness
and distinctive psych-electronica band
Oddfellow's Casino
.
Staged by legendary Brighton-based promoters Melting Vinyl, the gig follows a series of live streamed performances Melting Vinyl ran during lockdown, showcasing new artists in a historic church where the acoustics and atmosphere are as divine as the setting. The September 30th live audience show will be recorded, then streamed on October 13th.
French singer-songwriter Cess Frangi and English producer and composer Graham Pratt comprise
Greenness
who offer an immersive mix of acoustic acoustic instruments merged with electronic beats, sound effects, field recordings and evocative bilingual lyrics that will be perfectly suited to the resonance of the venue.
The Brighton-based duo have previously played at London's iconic Royal Albert Hall and toured across the UK, France, Spain and Germany, as well as supporting artists as different as Alice Russell, Orbital, Dub Pistols and Asian Dub Foundation, as well as US folksters Marissa Nadler and Handmade Moments, plus UK rockers The Slow Readers Club. Following the release of two EPs (Bicephaly in 2016 and Cyclicity in 2018), Greenness are now working on their debut album
Sunrooms
, set for release on October 1.
Returning to St George's to celebrate their 20th anniversary, the seven-piece
Oddfellow's Casino
(pictured) blend dreamy pastoralism with jazz, electronica and drone. This gig will mix back catalogue favourites with tracks from the four(!) new albums they recorded during the pandemic. These include
The Cult of Water
(Bearded review coming soon), produced in collaboration with author and magician Alan Moore, and complemented by the publication of a Rough Trade book.
Helmed by singer-songwriter author David Bramwell,
Oddfellow's Casino
have been championed by Cerys Matthews, Lauren Laverne, Radcliffe and Maconie, 6 Music's Freak Zone and The Quietus. According to the latter, the band "Joins the dots between Pentangle and The Pet Shop Boys, Basil Kirchin and British Sea Power", while Music OMH declared: "In years to come Bramwell's albums will move into cult territory themselves; deep, ambitious affairs that offer entry points into fascinating subjects".
Oddfellow's Casino and Greeness play St George's Church, Brighton on Thurs 30th Sept, Tickets here

The show will be livestreamed on Weds 13th Oct, Live Stream Tickets here