Tunng @ Heaven, London 08.10.13
The first thing you'd notice walking into Heaven nightclub on Tuesday, October 8 is the heat emanating from the arches. Like somehow over the years of live events the sweat and body heat has impregnated itself into the walls, bound to linger for eternity. The second thing you'll notice is the broad variety of punters in attendance. Looking around you'll see indie kids, suits, barely 18 year olds and individuals of the older persuasion. This is testament to the wide reaching appeal of Tunng, tonight's headline act. With glitched out electronics, technical rhythms and beautifully manipulated guitars there is something, it seems, for everyone to be found within Tunng's music.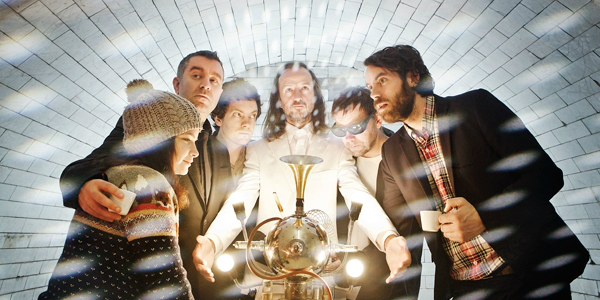 For a band that, in recorded format, sound mostly quiet and stripped back,
Tunng
have a mighty stage presence. Featuring two guitars (acoustic and electric), bass and fx, synth, drums, keyboards, a variety of strange percussion instruments and three vocalists, one would be forgiven for wondering how they will ever make such a combination into one cohesive sound; but Tunng, for the most part, did so and it's quite a show.
With the absence of Becky Jacobs on vocals, the back up vocals did stray from key from time to time toward the beginning of the performance but were rectified quite soon thereafter. There were also some timing issues once or twice, but again, nothing that detracted from the overall good vibe of the show. Frontman Mike Lindsey added to this vibe immeasurably with plenty of crowd hyping, rock n' roll faces and even some robot dancing.
The set list comprised of mostly new material from the
Turbines
album including 'Trip Trap', 'The Village' and 'Embers'. However due to the instant gratification these tracks offer, the crowd were not left feeling wistful for a more restrospective set. Anyone possibly left wanting for older songs could not argue with the closer. Returning to the stage with friend Sam on guest vocals, Tunng closed with 'Bullets' to rapturous response, complete with singalong at the end.
After two sold out shows at the Lexington earlier this year, Tunng proved once again that they can rock an even bigger space. And ten years on, it seems like Tunng have no intention of slowing down and their fan base is only due to multiply.