Tunng @ The Lexington, London 08.07.13
Folktronica pioneers return in triumph as they debut new album to joyous effect.
Jul 8th, 2013 at The Lexington, London / By
Ben Wood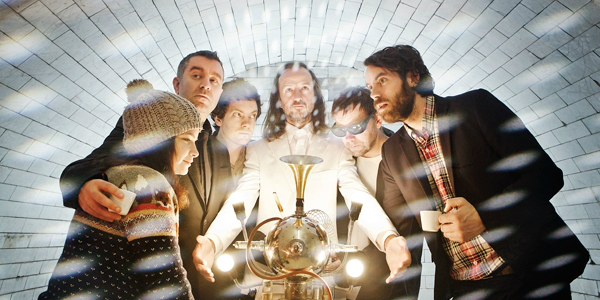 Most gigs are an unknown quality. You take your place in front of the stage hoping that the magic will happen, but it strikes fairly infrequently. However, once in a while the stars align and you are lucky enough to witness something very special. That's what happened when, for the first time, folktronica gods
Tunng
debuted the songs from their new fifth album 'proper',
Turbines
, at London's coolest pub venue, The Lexington.
Turbines
is more of a cohesive band effort than some of Tunng's earlier efforts, despite recordings being split between Iceland, where frontman and band co-founder Mike Lindsay now resides, and Dorset. A "sci-fi folk opera" on the theme of an imaginary village, its songs already sound like Tunng classics. But it really comes into its own live, the tunes blending wonderfully with the band's older material.
After an intriguing support act from Glasgow's Bjork-esque electronic duo
Conquering Animal Sound
, the band hits the stage accompanied by an eclectic range of kit. Electric and acoustic guitars, drums, synths and a rack of esoteric percussion instruments let you know: this is an unusually open-minded and fluid group. And so it was to prove...
From the first note
Tunng
sound wonderful, melody and groove in perfect harmony. A synthesis that could sound awkward and forced in other hands sounds like the world's most natural and pleasing idea. Sensual as hell, emotional and sensitive, it reconciles apparent opposites into a wonderfully cohesive whole. Folk and electronics, human and machine, male and female, happiness and melancholy, the past and the present, are in perfect union.
Song structures remain pretty much intact, but the sound is beefed up somewhat, creating a danceable, irresistibly joyous groove that swings like hell, without sacrificing any of the songs' intricacies. Funked up but not dumbed down...
The band is clearly having a ball, Lindsay hopping from leg to leg like a madman, the three vocalists (Becky Jacobs, Lindsay and guitarist Ashley Bates) sharing quips with each other. The atmosphere is contagious, and before long the front row is a mass of dancing loons with mile-wide smiles. The intimate campfire vibe of the albums is replaced by a loved-up Balaeric feel.
Turbines'
first track 'Once' ("sing before your lifetime's over...") kicks things off in fine style, Lindsay's nimble acoustic work and the grooviest synths you've heard for many a moon meshing with peppy drums and immaculate three-part harmonies. This is warm-hearted music that says 'yes' to life, in all its imperfections.
The synth-strafed euphoria of 'The Village', the band's poppiest moment to date, is joyously anthemic - a massive hit single in any just world. "At the weekend, Ashley told us the meaning of this song - it was disgusting!", jokes Lindsay.
Tunng's vision has its share of darkness and ambiguity, however: the impossibly beautiful ballad 'Jenny Again' is heart-stoppingly gorgeous, but tells a bleak tale of infidelity and death.
Ultimately though, this music is life-affirming in the extreme, the perfect tonic for those mourning the end of a glorious Glastonbury festival. Returning for a well-deserved encore, the band closes with 'Woodcat', whose refrain sums up a rare and wonderful gig: "And we all had a lovely time..."
We sure did.