Tony Allen @ Church of Sound, London 12.03.20
Afrobeat icon leads a superlative tribute for late South African trumpet legend Hugh Masekela
Mar 14th, 2020 at Church of Sound, London / By
Ben Wood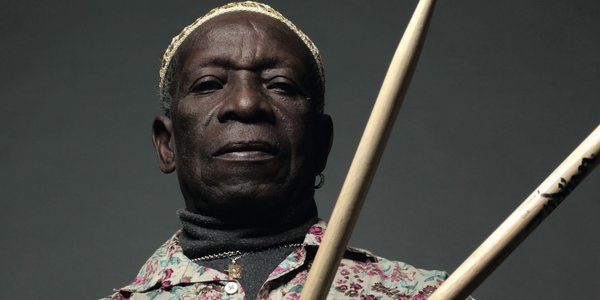 There are good seats... and then there is Bearded's view for this very special gig. And boy was it worth it.
Every fortnight, jazz-leaning night Church of Sound takes over Clapton's St. James the Great Church, and a few hundred music-heads get to appreciate some primo live playing, in the round, at very close quarters.
Perched on a front-row pew we are virtually on-stage, within touching distance of the horns. The place is already rammed when Brown Penny come on. There's a definite 70s fusion / Weather Report vibe with stellar horns, heavy guitar interjections and - on We can be friends - the most addictive choppy funk guitar since Chic were destroying dancefloors.
We're now nicely warmed up for the main act. Looking immaculate in hat and dark glasses, 79-year-old Nigerian drum icon
Tony Allen
is a walking miracle, famously able to shift and drive the beat like no-one else, often playing four different rhythms simultaneously - one with each limb.
Tonight is a bittersweet experience for the Afrobeat pioneer and Damon Albarn collaborator - a musical mass for a lost friend. A few years back, Allen jammed with his old buddy, South African trumpet legend
Hugh Masekela
. Sadly Hugh died before an album, the wonderful
Rejoice
could be completed - but it was finished thanks to producer Nick Gold and a small group of top-notch musicians.
Tonight the collaboration Allen has described as 'a kind of South African - Nigerian swing-jazz stew' comes to life over two shortish sets (no problem for the man used to playing six hours a time with Fela Kuti). The album's tunes are joined by Allen's Secret Agent and a couple of Masekela numbers - Grazing in the Grass and Sekunjalo.
Allen leans back on his stool, appearing to do little but conjuring up intricate polyrhythms, driving proceedings forward while adding his low rumbled vocals to several numbers (Afrobeat tunes are speckled with chants and one-liners, rather than songs per se).
British sax icon Steve Williamson, dapper and youthful-looking, blows up a storm and forms a dynamite - and very funny - double-act with the trumpeter, a jovial powerhouse on fire with the music. Whether duelling with Williamson, playing percussion, adding his voice to the chants or interacting with the equally transported Hammond electric piano player, he is having the time of his life.
We've Landed ('17 18 19...') is a call to action for today's youth, complete with Miles Davis trumpet a la Bitches Brew. Allen's heartfelt speech honouring lost friends is followed by a tune reminding us that 'from the north to the south...we are the same people'.
The double bassist gives his callouses a break and gets a dynamite groove going as he switches to electric bass. Secret Agent is uplifted by churchy piano; Masakela's Grazing in the Grass swings and soars anthemically; Never (Lagos Never Gonna be the Same) is a suitable tribute to the one and only Fela; and one super-minimal groove shows how you can play very little and be incredibly funky. It is deeply hypnotic and could happily have gone on forever.
This music has its roots in jazz alright, but manages to swing like crazy while never sacrificing feel for showing off. It's a kind of chamber Afrobeat, featuring the same surges and pulses but played by a fraction of the personnel of 70s Fela, f'rinstance. Subtle and deeply groovy, it's a feast for the ears and the soul.
Tonight was a worthy tribute to a musical trailblazer - and proof that with open ears and open hearts, age is no obstacle.