Tony Allen and Hugh Masekela: Rejoice (World Circuit)
Afrobeat drum legend teams up with late great Hugh Masekela for swinging Afro-jazz jam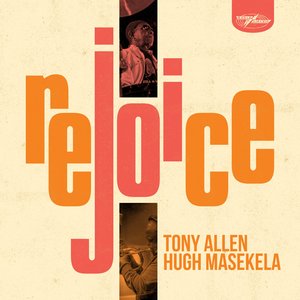 The late Nigerian Afrobeat pioneer Fela Kuti is a legend whose legacy goes way beyond music. In the 1970s, his compound in Lagos became a super-funky state-within-a-state - a permanent party and a focus of resistance to his country's repressive governments. Inside its walls, Fela and his crew created music that swung like the finest jazz, stretched out like the wibbliest P-Funk and was as proud and self-assertive as James Brown at his most superbad.
Naturally, nothing that good or that free can last for long. But the grooves Fela and co laid down in those glorious years have inspired generations and are now more influential than ever.
Such a band needed a shit-hot drummer, and
Tony Allen
provided the polyrhythms that kept Afrobeat aloft. The great man has remained in the public eye thanks to his role in Damon Albarn's supergroup The Good, The Bad and the Queen, while always on the lookout for a tasty collaboration. Here's another one...
Back in 2010, Tony hit the studio with his friend
Hugh Masekela
, the South African trumpet legend and anti-apartheid campaigner. They laid down some tracks which they hoped to embellish later with extra levels of instrumentation. However, their busy schedules prevented this from happening, and in 2018 Masekela joined the great jam session in the sky.
Determined the tapes shouldn't go to waste, Allen gathered some top jazz players (including Steve Williamson and Acoustic Ladyland's Tom Harberton) and finally finished the album. Clad in a rather groovy 60s-esque cover,
Rejoice
is the result.
It's a warm, engaging listen with Allen's drums much to the fore. If you are a big fan of drummers (like this reviewer), an album of Mr Allen on his tod, holding down the One while endlessly shifting around it, would work quite nicely, thanks very much.
However, there's a lot more going on in what Allen has called a 'kind of South African- Nigerian swing stew'. Some of the trumpet interjections have a touch of Miles Davis' fusion meisterwork
Bitches Brew
, while shuffling drums, snapping double bass and whirring, clicking percussion keep the grooves interesting.
Agbada Boudou features massed horns like a siren call, while abstract electronic keys throughout add a touch of spaciness. But its the tracks with vocal accompaniment that work best. From the mouth of Masekela himself, Never (Lagos Never Gonna be the Same) acknowledges that Fela was an irreplaceable one-off. And the '
17, 18, 19...
' refrain of closing track We've Landed calls on the next generation to step up and fight the power.
This is not an album that's going to change your life, or make you rethink your views on jazz. But it is an engaging document of a swinging jam session - and a real grower. The tunes on this album should really show themselves to best effect when the band tours it in March (Bearded will be there). Until then, this is a suitably celebratory send-off for Mr Masekela.
4/5
Tony Allen live dates:

12 Mar Church Of Sound, London
13 Mar Church Of Sound, London
3 Apr L'Embarcadère, Ville d'Aubervilliers, France
8 May SO36 Berlin, Germany
9 May, Cheltenham Jazz Festival, Cheltenham
30 Jun Sequoie Music Park/Parco Delle Caserme Rosse Bologna, Italy
2 July Beckenham Place Park, London
4 Sept Parque Eduardo VII, Lisbon, Portugal

Tickets available here

Tony Allen and Hugh Masekela Links