The Merchants @ EBGBs, Liverpool, 18.09.21
Rising alt. rock outfit step up for their debut headline gig in redoubtable style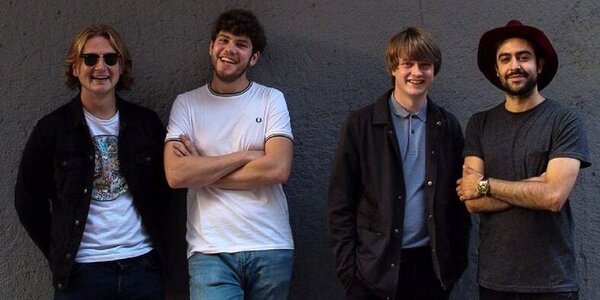 Any lingering worries that the gig circuit might take some time to recover post Covid and that punters might be staying away are comprehensively blown away by the present gig. Any nagging doubts about attendances dissipate as the debut headline show by alt. rock outfit
The Merchants
is sold out long before showtime. Delayed, then rescheduled then shifted again, the anticipation may have worked in the group's favour as the attendance in the low-ceilinged environs of basement gig parlour EBGBs peaks as the group walk onstage.
A room rammed front to back with sweat clinging to the brick walls is surely one of the greatest ever starting points to a rock gig and the present group make the most of it. Touting a tougher, more pumped sound than on record, the crowd already knowing the choruses to several tracks really doesn't hurt matters either.
For a band whose songs are already models of brevity, everything here is accelerated by the live energy, the set benefiting from the additional velocity. That said, the quartet are savvy enough not to rip through the dozen tracks on the setlist, as mid-paced recent single Daughter of Darkness and waltz-time cut Together Alone are sensitively handled.
The highpoint arrives with an assured take on
Modern Life Is Rubbish
-esque paean to crap office jobs Glum Struck Fool that sashays along like classic Kinks. The accelerator is then pressed down firmly for Hostile following immediately after, which tumbles out of the PA sounding near unstoppable. The spidery lead guitar arpeggio of Trait of a Creative Mind showcases the quartet's nimble rhythm section, deftly winding its way between verse and chorus. Closing track Forbidden Fruit supplies an intriguing kiss-off meanwhile, slowing the tempo down instead of a race to the finish line.
Something of a landmark logged with their debut headline gig bossed in considerable style to misquote Roy Schneider, for their next show they're gonna need a bigger room.