The Men @ The Kazimier, Liverpool 20.02.12
Brooklyn garage punks on blistering form at The Kazimier, Liverpool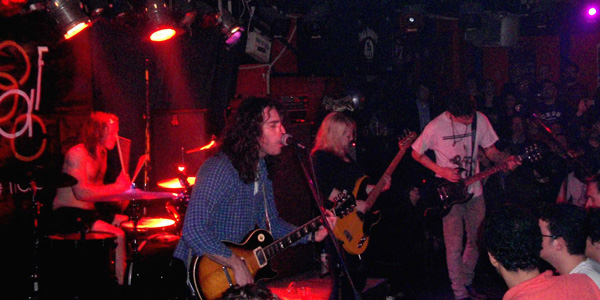 In the midst of a lengthy worldwide tour, NYC garage punks
The Men
are seriously beginning to make waves as their whistle stop UK jaunt calls in at The Kazimier.
Support act
The Temps'
brittle post-punk has seen the quartet accumulate a sizeable clamour in the city over the past eighteen months, their PiL inspired guitar work and irascible attitude coalescing well in a short, spikey set.
Being Jo Francis
who follow next opt for unashamed, chest beating rock without feeling the need to drizzle what they're doing in self-consciousness irony. Boasting an admirable lack of self-restraint, the power trio dole out Biffy Clyro inflected riffs with maximum conviction, the set ending suitably enough with the singer sprawled flat on the stage, feedback whistling from the amps.
Any band, (especially a punk one) with the chutzpah to crib the title of The Ramones' classic 'Leave Home' for their own album better have the cojones to back it up. Fellow city dwellers
The Men
do easily however, as the messy glory of the album raised their profile considerably.
The savage melodicism of the long player has been amplified for forthcoming opus 'Open Your Heart' (another steal, not the Madonna song) leading the band tantalizingly close to the door marked 'Overground'
Thrown in surprisingly early, the title track is sped up beyond its already brisk meter, the Buzzcocks meets Husker Du gem tumbling out of the speakers at an agitated gallop. Taking classic monochrome punk as a blueprint, the band largely play to its strengths, dispensing short bursts of rough hewn bar chord driven fury, the brilliantly interlocking guitar riffs following one another in an almost non-stop onslaught.
With the shirtless drummer barely allowing the tempos to drop below someone impatiently tapping a pen on a desk, the quartet blaze through the majority of their set with just enough space between songs to gasp a few lungfuls of oxygen before hurriedly setting off again.
When the quartet do ease the momentum however, any conventions concerning tracks clocking in at less than three minutes are well and truly blown out of the water by a near twenty minute epic mid way through the set. Reminiscent of the sprawling 'Reoccurring Dreams' that closes Husker Du's touchstone
Zen Arcade
, this and
Leave Home
pearl 'Bataille' point out the progressive nous of the band without straying into well, prog.
Brilliantly stoking anticipation for the album due to land next month, on tonight's form, the Albums of Year list compilers have their first contender.