The Men - Open Your Heart (Sacred Bones)
New York punks release stunning, game-changing third album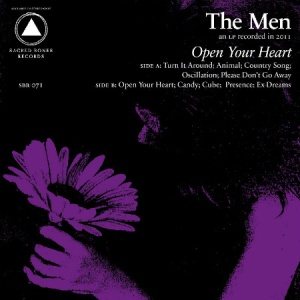 Following hard on the heels of
Leave Home
which only reached these shores in December of last year,
Open Your Heart
sees Brooklyn's
The Men
deliver a decisive game-changer of an album.
The scale of the band's ambitions had been hinted at on previous LPs and the present disc sees these come to fruition with short concise punk blasts existing alongside straight up rock and roll, surf guitar riffs, shoegazing guitar textures and their most melodic songs to date.
The supercharged rampage of 'Turn It Around' begins proceedings, the nearest the band have come to straightforward indie rock, albeit played at a Usain Bolt defying speed. 'Animal' up next evokes a less-trashed New York Dolls backed by The Shirelles, the hollered lead vocal juxtaposed with cooing 'He's an animal' girl group vocals.
Stretching themselves sonically, the instrumental 'Country Song' led by Peter Green style lead guitar, gradually morphs into beatific waves of sound while 'Presence' continues the patchwork theme, gliding along on chanted vocals and beautifully unfurling guitars.
'Oscillation' driven by interlocking 'Daydream Nation' era Sonic Youth axe interplay, displays the band's growing confidence, waiting until four minute have passed before the Bob Mould-esque lead vocal is introduced.
Elsewhere the gale-force guitars and low in the mix vocal melody of 'Please Don't Go Away' prove the group haven't forgotten their roots, similarly the case on 'Cube', combining filthy bass riffs and a continuous explosion of drums and guitars.
The title track, a three minute gem that melds The Buzzcocks and Husker Du to dazzling effect features the most memorable lyric on the album, with the exhortation to 'Be who you are/Be who you want to be', simultaneously providing the band with their finest single to date. Their biggest departure sonically thus far, 'Candy' that follows next is a mournful violin assisted acoustic strummer about a lost job, the melancholy tale recalling the exquisite ache of The Replacements at their most downbeat.
A collection of some of the most thrilling guitar sounds assembled on record this year, if Sonic Youth's crown as New York guitar innovators is up for grabs following the announcement of their indefinite hiatus, the current band are more than well equipped to be anointed Thurston and Co's heirs. Thrilling.