The Dandy Warhols @ Albert Hall, Manchester, 31.01.19
Evergreen US alt. rock outfit showcase new LP and their back catalogue in excellent fashion at a near-capacity Manchester show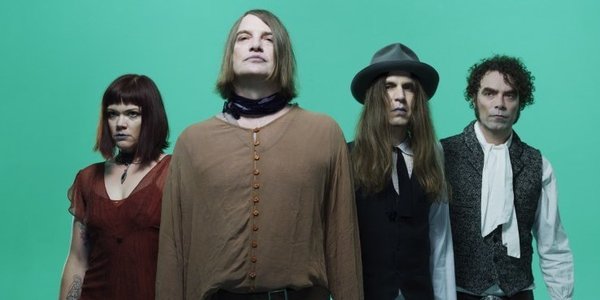 Playing to a sizeable early doors crowd at the beautiful Manchester Albert Hall, the road miles logged on tour have strengthened
Juniore
's live show. Teasing out the surf guitar and garage rock elements of their sound, the Parisian outfit turn in a highly confident display. Anchored by Swanny Elzingre's superlative pinpoint drumming, vocalist / keys player Anna-Jean leads the trio completed by guitar playing Grim Reaper, The Thing through a clutch of ye-ye noir chansons.
An extended take on Panique with The Thing prompting audience clapping is brilliant, leading to if not a steaming moshpit then certainly a widespread outbreak of head-nodding. Extra Lucide and Magnifique are both aired in assured fashion while a leisurely closing rendition of
La Plage
sees Anna-Jean and The Thing trade instruments. New converts surely won to the cause, the band's return can't come soon enough.
With the venue at near capacity,
The Dandy Warhols
walk on stage and Courtney Taylor-Taylor sets Forever from new LP
Why You So Crazy
in motion. Fond of building their shows up gradually, STYGGO from 2016s return to form LP
Distortland
has its hookline chorused, while the Morricone sampling Get Off that follows truly ignites the crowd.
A pairing of Not If You Were the Last Junkie on Earth a song that BBC Radio One once A-listed (something that even 6 Music would probably swerve in the present age) and We Used To Be Friends places two of the band's finest single back to back. Keys player Zia McCabe moonlighting on bass guitar for several tracks dusts off the band's acid-frazzled country leanings for excellent new track Highlife, which along with new cuts Small Town Girls and Motor City Steel showcase the new LP in sterling form.
An XL rendition of I Love You underlines the group's ability to create a motorik groove but placed alongside deep cuts Well They're Gone and And Then I Dreamt of Yes sees the crowd begin to fidget slightly. The final stretch is a masterstroke however, as the quartet dust off the crowd pleasers for a near-continuous run of hits. Former trumpet player for The Specials Jonathan Read is introduced onstage, anticipation rising that woozy classic Godless is about to be played, the intro prompting one of the night's biggest cheers.
One of the band's most overlooked singles,
All the Money or the Simple Life Honey
from 2005s curate's egg of an LP
Odditorium
follows, while indie disco evergreen Bohemian Like You sees much of the upstairs balcony rising to their feet. The Karoke style video was clearly money well spent as almost twenty years on the lyrics are sung en masse, concluding to roaring applause. A romp through slacker anthem Every Day Should Be a Holiday sees balloons raining down from the ceiling, while the Pete Holmström piloted drifting cloud of psychedelic noise Pete International Airport segues into a thunderous version of Boys Better replete with Townsend-style guitar windmills.
An excellent restatement of principles, with their silver anniversary passed, the Oregonians clearly still have plenty more road ahead of them. Dandy's Rule OK? Yep, very much so.