The Dandy Warhols: Distortland (Dine Alone Records)
The US alt. rock stalwarts relocate their muse on return to form ninth album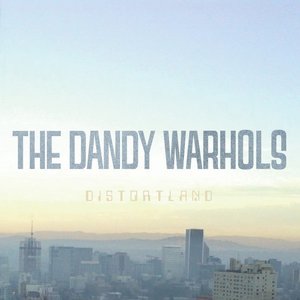 With over two decades logged since their 1995 debut
Dandys Rule OK
, Portland, Oregon quartet
The Dandy Warhols
have done much to inspire the current psychedelic renaissance, mining a seam of deep, expansive art rock from their inception when the genre was largely dormant to the present day.
While the band remain a stunning live draw, despite their albums all featuring highlights scattered across them, recent releases have suffered from a lack of focus and the occasional feeling that the four piece were going through the motions.
Distortland
then is a commendable effort at pulling in the slack with running times trimmed, meandering tracks jettisoned and the general feeling of a renewed sense of purpose.
The title acts a reference to their hometown which has become increasingly gentrified over the past decade and the album's warm analogue hum, from demos put to tape on a 1980s cassette recorder in singer/guitarist Courtney Taylor-Taylor's basement. With post-production courtesy of Jim Lowe, whose credits include radio mixes for another Beyonce and another Taylor (Swift, that is), the LP bears out the Dandys' leader assertion that
Distortland
'is a pop record but still has the sonic garbage in there.'
The throbbing electro bassline and acoustic strum of 'Search Party' opens proceedings promisingly before careering off course somewhat with the motorik drag 'Semper Fidelis' second. Quickly overcoming this misfire, the quartet regroup to turn in a series of fizzing psych rock/synth pop gems that recalls 1997 classic
...The Dandy Warhols Come Down
plaited with 2003s excellent synth-steeped
Welcome to the Monkey House
.
While the lack of garage rock bangers and heavy duty psych jams is slight disappointment, the light-touch approach works wonderfully on the twilight Laurel Canyon pop of 'Give' and the woozy mellotron sample embellished 'STYGGO'. The sparkling acoustic psych strum of 'Catcher In The Rye', seemingly refers to Holden Caulfield's reverie about what he hopes to become in the novel, while the diaphanous shoegaze pop of 'Doves' is similarly dream-like.
Lead single 'You Are Killing Me' whose verses (possibly inadvertently) evoke The Killers, is one of the band's best 45s in a long while the electro-chug of 'All The Girls In London' is founded on the same Germanic electro
schaffel
beat preferred by Goldfrapp in the last decade. Elsewhere the surf rock inspired 'Pope Reverend Jim' refers to the leader of the infamous mass murder-suicide that took place in Jonestown, Guyana that inspired half of the name for the Warhols' buddies The BJM.
'The Grow Up Song' meanwhile closes the album on a Danny Glover/
Lethal Weapon
moment (homage?) with Courtney stating '
I've got to admit/I'm too old for this shit
'. On this evidence however, Taylor-Taylor needn't worry as the Warhols sound far from it.