Slowdive @ Arts Club, Liverpool 28.03.17
Shoegaze pioneers combine classic cuts and new tracks alike to spellbinding effect on Merseyside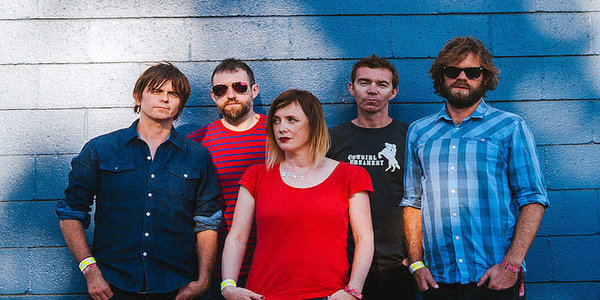 Nowadays rightfully venerated as dream pop purveyors par excellence, it seems incredible that
Slowdive
were ever a music press bête noire. Usurped by the erm, 'New Wave of New Wave' (Google it) in 1993 around the release of their classic second LP
Souvlaki
, the then dominant music press effectively performed a volte face on a group they had previously praised. Two years down the line with the appearance of their neo-ambient third set
Pygmalion
, the band were effectively chased out of town by a mob wielding pitchforks and flaming torches who had most likely been drinking in The Good Mixer, Camden immediately before.
All of this is now ancient history as the sold-out weeks in advance date at the Arts Club proves. Arriving onstage to the strains of Brian Eno's Deep Blue Day the quintet start at the very beginning, as Avalyn from 1990s eponymous debut EP floats from the PA and seven hundred sweltered heads in the venue's boiling hot main room begin nodding in unison.
Dusting off the hits, whoops of recognition greet the opening arpeggio of Catch the Breeze and the slo-mo chords that herald a swooning take on Alison. A continuation of the sound they explored in their initial decade, the Thames Valley crew's material has aged supremely well, with nothing tweaked to 'make it sound more contemporary' or subject to laptop assisted overhaul, with Rachel Goswell's vocals retaining their otherworldly charm and Neil Halstead's FX pedal setup still a thing of wonder.
Souvlaki Space Station is a masterpiece of hold and release dynamism and cavernous dub basslines while the gliding textures of Machine Gun firmly signpost where Sigur Rós acquired their colossal earth-moving guitar sound from. While reforming to show what the fuss was all about back in the day was fully justified, especially as their legacy was so neglected for a time (a shout of 'Fuck the NME!' from the crowd is greeted with knowing laughter), the new cuts equal Slowdive's nineties output.
Indeed the new tracks supply several of the evening's best moments with energized comeback single Star Roving strafing past like a comet, with sterling recent track Sugar for the Pill and new addition No Longer Making Time from their upcoming eponymous fourth LP ably demonstrate that Star Roving was no fluke.
A galaxy-sized cover of Syd Barrett gem Golden Hair closes the main set in a hailstorm of feedback before a return to the stage with early classic (and theme tune of sorts) Slowdive. The beautifully mournful 40 Days calls time on proceedings to demands for a second encore and indelible proof that the rebirth evoking title of their forthcoming album is far from misplaced.