Ryley Walker @ The Sebright Arms, London 18.04.15
Thought Tim Buckley had died forty years ago? Close your eyes and you can almost believe he lives...
Apr 18th, 2015 at Sebright Arms, London / By
Ben Wood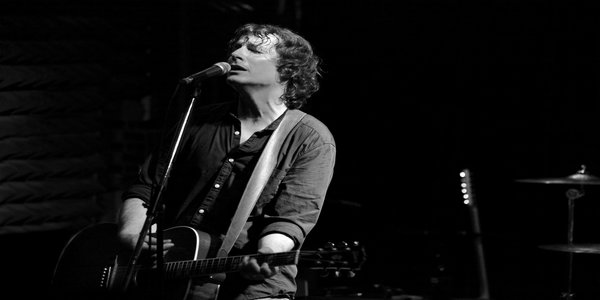 There's a definite buzz about
Ryley Walker
at the moment. Once an avant-garde noisenik, in recent years the fresh-faced Midwesterner turned Chicago native has turned himself into a damn fine singer and guitarist through intense practice and heavy-duty gigging. He sometimes plays with a band, but tonight, in a packed Shoreditch cellar bar, it's just Ryley, a stool and a mike.
The area near the stage is filled with a mixture of awestruck young guitarists, getting the ultimate music lesson, and middle-aged music heads who have heard a hell of a lot of stuff and reckon young Ryley measures up to the best of it. "Last time he was here, he played to 25 people at the Brixton Windmill", notes one. There are several times that number in tonight, and the singer is grateful. "It's sold out tonight... I haven't sold out shit in my life!!", he enthuses.
Sonically, Ryley could have astrally travelled here from 1970. While he's steeped in the folk tradition, his biggest influences seem to be those open-minded voyagers who stretched the form, bringing in jazz, world and psychedelic influences. The complex fingerpicking, weird chords and raga elements of progressive English players like Davy Graham, Bert Jansch and John Renbourn are clearly an influence. But to these ears, the biggest one is the late Tim Buckley (starcrossed father of Jeff, and writer of 'Song to the Siren', among countless other classics). Ryley's powerful bluesy vocals and fondness for extended, percussive trancelike improvisation mean that several songs tonight, such as 'Summer Dress', could have been lifted straight from Buckley's masterpiece
Happy/Sad
.
Softly spoken Ryley is a charming host, happy to chat with the audience as he plays tunes from his two solo albums plus a sparse, super-soulful cover of Van Morrison's lilting and lovely 'Fair Play'. While he occasionally plays a shorter piece like 'On the Banks of the Old Kishwaukee', longer explorations like 'Primrose Green', the title track from his second, latest, album are more representative of where he is at. Like Buckley et al, Ryley is no stranger to mind expansion or good old booze, and 'Primrose Green' evokes a mind-blasted day spent drinking whiskey mixed with morning glory seeds ("I gotta tell you about the aliens!", he jokes).
Most of tonight's tunes cover well-worn folkie themes, Ryley playing the road-scarred romantic dedicated to keeping his vision alive, and body and soul together. He sings of the loneliness and rewards of life on the road, the search for romance, the impossibility of commitment, and the urge to lose oneself in intoxicated reverie.
The epic 'Sweet Satisfaction' is described as a "weird one" by the man himself, an epic tune rising and falling through several phrases as Ryley pulls out all the stops. He leaves the stage to a fine reception, all played out after over an hour lost in music.
The man is a hell of a performer, and it's easy to see why the likes of
Mojo
have sung his praises. But at the moment, he's more the embodiment of a tradition than a distinctive voice in his own right... and he may need to tone down the Buckley-isms a notch or two. All the greats have a clear voice of their own - a tune by Neil Young, Leonard Cohen or Joni Mitchell is instantly recognisable. Can Ryley find his voice, and become as talented a writer as he is a performer? It's going to be fun finding out.