Ryley Walker: Golden Sings That Have Been Sung (Dead Oceans)
Guitar virtuoso Ryley Walker returns with a richer, fuller sound. This slow burner is a tranced-out treat for those lazy summer afternoons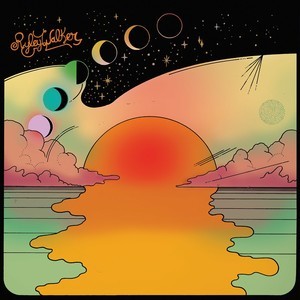 American singer-songwriter
Ryley Walker
has been getting a lot of people excited since he burst onto the scene. Initially lauded for his dextrous finger-picking style, this former noise merchant turned post-folk guitar virtuoso has assimilated a whole encyclopedia of styles and influences into his increasingly lyrical oeuvre.
After two solo albums and his recent Bill MacKay collaboration
Land of Plenty
, this is the fourth album by the hard-gigging twenty-something. Once, his lyrics were rare beasts, snuck in between long instrumental passages. His latest work expands his range both lyrically and musically, adding more electricity (splashy jazzy drums, fusion-friendly keys, occasional trippy electric guitar) and more elaborate arrangements to his largely acoustic template.
He may be a blog-approved 21st century musician, but
Golden Sings That Have Been Sung
presents the artist as an classic American archetype: the itinerant folkie living for his music, and whatever kicks and human connections he can sustain on his series of one-night stands. Money is hard to come by, friends will be gone in the morning and tragedy may be around the corner. Still, he's sticking to his guns, come what may.
His softly sung, conversational and impressionistic lyrics take up more room-space than previously, as Walker's life on the road prompts a rush of observations and existential musings. There are a couple of concise numbers here, such as the straightforwardly folky I Will Ask You Twice, with its arresting nice opening line '
I played footsie with Jesus...
' However, several others eschew conventional verse / chorus structures, with Walker more interested in stretching out and exploring a mood in a distinctly progressive, early 70s style.
Some of Walker's early influences can still be detected, most obviously on relationship drama Funny Thing She Said. Its soulful, downbeat mood and moaning, transported vocals are strongly reminiscent of the late Jeff Buckley. It and the pretty I Will Ask You Twice are among the album's catchiest and most affecting moments.
The Roundabout starts off with a riff strongly reminiscent of Bert Jansch's version of folk standard Black Waterside, made famous by its transmogrification into
Led Zeppelin 1
instrumental Black Mountain Side, Its tranced-out approach is an album trademark, with rippling lovely opener The Halfwit In Me and the cinematic A Choir Apart also great at mining a groove. Several moments bring to kind the soulful, jazzy, zoned-out expansiveness of peak-era John Martyn, while the intense, moody Sullen Mind sees Walker unafraid of showing his darker side.
This is a beautifully textured album, with some exquisite playing and plenty of moments to lose yourself in: perfect for setting the mood on a laidback summer afternoon. It's not one of those albums that smack you round the lugs on the first play, but a slow burner: after a few listens, its subtly melodic charms come into full focus. Ryley Walker is here for the long-term, that's for sure.