Odetta Hartman: @ The Islington, London, 24.09.18
Great songs, wildly imaginative arrangements and a singer with real star quality...this was a special gig indeed.
Sep 26th, 2018 at The Islington, London / By
Ben Wood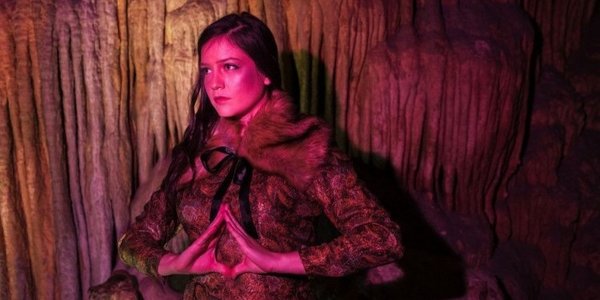 New Yorker
Odetta Hartman
is a one-off. Her recent album
Old Rockhounds Never Die
is a beguilingly odd mixture of sensual, shape-shifting vocals, high and lonesome laments and enough modern production touches and sheer weirdness to prevent it being another classy act of retro archeology. But could she and producer / live sound wizard Jack Inslee recreate its textures and subtleties as a live two-piece?
Hell yeah... and then some. Live, Hartman is an unstoppable force of charm, charisma and vocal prowess who has the audience eating out of her hand before she even gets onto the stage. Her vocals are perfectly accompanied by a panoply of wildly inventive sounds both organic (her banjo and violin, live percussion) and electronic.
The singer commences the gig from among the crowd, playing lonesome violin while a battery of oddball noises ping at us from all angles. The overall effect is 'post-modern Western movie soundtrack' - and a packed crowd is instantly won over.
The Lynchian splendour of the stage (replete with red velvet walls) seems a suitable setting for these slightly spooky songs and instrumental passages. Her playful attitude turns an already idiosyncratic album into dub bricolage, the songs feeling like they are being remixed on the spot. Hartman's soulful voice - belting it out one minute, purring like a jazz chanteuse the next - shares the limelight with unclassifiable music that can swing from lonesome Appalachian lament to gnarly industrial beats in a heartbeat.
Old Rockhounds...
short but memorable title track is simple, hypnotic and showcases her country twang, but other parts of the set are wilder and more amped up than on record.
Amidst the sonic experimentalism, the set also feat several instantly hooky anthems that have the crowd swaying and clapping along. You You pays homage to a lover with great slide sounds, while late-set highlight Cowboy Song is a jaunty, goofy joy.
We are warned in advance of a 'scary' three-song mind-set interlude. The Ocean features banjo, a jazz feel and sea noises. Widow's Peak is where sea shanty meets torch song.
Strict genre definitions continue to be shredded as soulful vocals and country vibes meet mad sub-bass and nutty electronic punkiness. The banjo-led Misery sees gothic vibes meet gun noises as it escalates to a Tarantino-esque conclusion.
Hartman's sister gets on stage to add backing vocals, while two old-time classics get an airing. Woody Guthrie's I Ain't Got No Home In This World Anymore is followed by the iconic (and ancient) Will the Circle Be Unbroken, retooled as a protest against Trump with an uplifting gospel vibe.
At around an hour, the gig passes far too quickly - time flies when you're having fun. We are serenaded with Punctuality Blues, juxtaposed with the album-closing slowed-down version of
Old Rockhounds...
- and then the gig is over. But we have witnessed something very special - true star quality and an imaginative approach to music-making that innovates while never sacrificing melody at the altar of art.
An absolute blast from start to finish.