Brainwash VI @ Brudenell Social Club & Royal Park Cellars, Leeds 15.10.11
The annual showcase of Leeds-based musicians (and a few special guests) that is Brainwash Festival has garnered much attention since its conception and is as highly anticipated this year as ever. So, with two days of bright sunshine to play with, what better way to spend it than in light-deprived ear-numbing happiness?
Oct 15th, 2011 at Brudenell Social Club & Royal Park Cellars, Leeds / By
Jack Sibley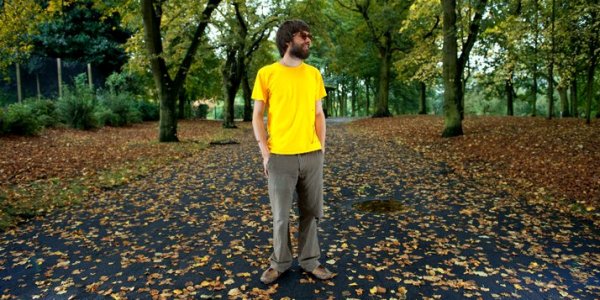 Having made this decision and with our breakfast-pints in hand,
Bearded
slunk down the grimy stairwell that led us to the first band of the day.
Heartships
are folk-rockers with a bit of a kick. Shying away from the standard folk-pop clichés that pervade so many bands at the moment, Heartships instead go straight for the jugular with marching rhythms and driving tenor vocals. Simply put, they bring images of crashing waves or trench-like fields rather than a soft wind or pastoral reminiscence. Armed with weapons of mass instrumentation (including clarinets and even musical saws), it was a nice touch to add a slow number with just guitar and vocals that showcased a more nuanced style that added depth to their other works. Think of a modern indie take on Wishbone Ash and you're close to the strongly evocative style of this band.
Trawl back to the Brudenell and
Shapes
are throwing some shapes (geddit?) on the main room stage. Bounding about with lethal abandon, swift runs and heavy stabs flew out at the audience like they were coming to get us. The most rewarding thing about Shapes is that they don't overuse their technicality. Whilst it would be easy for them to use the old tactic of throw out a million notes per second and hope some of them stick, Shapes really have a sense of when not to do this. Their structurally sound songs float between moments of reeling and squealing insanity and pure heavy riffs. In the meantime they appear to be hardly concentrating on what they're doing as they bounce about like rabid lemurs.
Next up came
Memo
, echoing softly out of the games room as if it were a coastal cave. This was mostly just a guy having some fun with a loop pedal and unfortunately there was little substance to speak of. Using a guitar and assorted percussion, about three fairly featureless soundscapes were built up and then abandoned. A nice soporific listen but very little to talk about due to a disappointing lack of variation or innovation.
Crawling back over to the dingy basement of the Royal Park, we found
NGOD
shamelessly flaunting pairs of loafers over their de-socked feet. But judge not lest ye be judged yourself as the four kids provided quite a show. Taking clear inspiration from This Town Needs Guns and others of that ilk, NGOD are one of these bands whose favourite prefix is 'poly-'. With melodies and rhythms intertwining like a flying spaghetti monster for the most part, a ballsier, down-to-earth section was constructed with refreshing regularity. At these points the band became a much more focussed and animated beast than in their more sprawling sections. Showing a knack for songwriting alongside adequate technicality, NGOD could rise fast.
How many words is this writer destined to commit to paper on the subject of Leeds' Iron Ladies,
Blacklisters
? Back at the Brudenell, the band lunge onstage and kicks off a set of their would-be 'hits'. With a perfect sound, they played a polished set suggesting they may have been putting in a few more hours since signing to Brew Records. Working through classics such as 'Trick Fuck' and 'Ask Yourself a Question if the Answer is Go Fuck Yourself', there were the usual antics from frontman Billy and the crowd bounced off him and grabbed the mic in a satisfied frenzy. Despite being described by Billy himself as an 'immensely standard evening', Blacklisters had done what they promise and that's certainly enough.
Coming with strong recommendations from their Brew Records teammates,
Kong
were swift to tag in after Blacklisters were done. Walking onstage in their underpants, a dirty distorted bass chugged out of the speakers and their terrifying charade began. It seems that the fear which Kong genuinely instil in their audience comes mainly from the obliviousness which they show in the face of creating this monstrous sound. Staring blankly at the crowd through their smile-endowed silicone masks before being suddenly possessed by the music and thrashing uncontrollably, Kong give the impression of being barely human. But the comic element is still there and a set highlight was watching them play through short, stilted versions of 'Walk This Way', 'Come As You Are' and a couple of others in between staring at the crowd for prolonged periods of time as if to ask 'Is... this not what you want?' Coming away from a Kong set you tend to feel slightly dirty - as if they took advantage of your ears in some perverted way – but it's an incredibly impressive impact and you can learn to live with yourself eventually.
Finally, we wandered back over to the Royal Park completely ready to have our minds blown by the highlight of the evening –
Juffage
. For those of you who haven't seen Juffage, he's unbelievable. Between looping different vocal lines, drum beats and keyboard parts, he is constantly twiddling dials and pushing buttons with his feet with impressive speed. A change of section is perhaps the most pleasing part though – not content with the Memo tactic of building everything up from scratch, Juffage dives straight into a thick section by playing multiple instruments at once. Hammering on heavy notes on a bass guitar whilst singing throughout impressive ranges and playing complicated drum rhythms is a sight to behold. It's easy to think that all this nerdy bedroom-style musicianship could lead to boring songs but this is the secret to Juffage's brilliance. What he does is create music by himself that you'd enjoy coming from a band and his record is just as enjoyable as his live show. Inspirational stuff that sent us all home to practice, Juffage was the perfect round succulent cherry on top of the Brainwash ice cream