Juffage @ Leftbank Centre, Leeds, 26.04.13
Rarely is a venue in Leeds so justified in its anticipation. Juffage's only gig of the year had seen the timelessly divine home of the Leftbank Centre church at his disposal for practice and preparation with his chosen clan for the preceding weeks. On Bearded's arrival, he was still padding around the space, ears to speakers and hand affixed to a cup of tea. Who's still asking questions?
Apr 26th, 2013 at Leftbank Centre, Leeds / By
Jack Sibley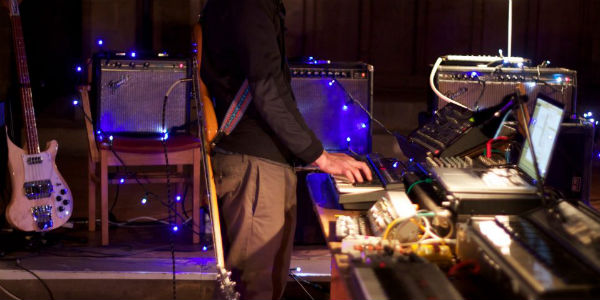 In the meantime, however, support acts were also well chosen. First was
Ten
, laying the canvas for the night. With clinical, stately movements he directed his accompanists through his world. Though Ten's, sometimes motionless, work might need some revitalisation, it provided a suitable opening scene to the setting we were in.
Next up were a group closer in thought to the Juffage dynamic. With a focus on song,
These Men
wowed the crowd with their a cappella stylings. Switching between medieval, folk, doo-wop and others, these men have voices of concrete mercury, decidedly slipping between listeners' fingers leaving experiential trace of song. As their octaves of range climb to the stone rafters, one can't help but think, if they were to cave, they could hit Mumford and Sons heights of popularity, but we all know there's no fun in that and the (shamefully) rare show of a small all-male choir is explored by These Men in a modest, recognisable and highly accomplished fashion.
The time came for the mighty
Juffage
to appear and an introduction by a friend was given in the form of an explanation and an apology. Tonight, Juffage was to use octophonic sound with his compositions, the programming of which had taken him the year so far, but this meant that no true explanation of every individual experience of this 'sonic cauldron' could be made. Well, there goes the review.
But in actual fact, the addition of eight-channel sound was less important than was advertised. Octophonic music has been experimented with for quite some time now in the work of Stockhausen, Cage and the like - artsy pieces the average person will only be interested in for the initial novelty of hearing a ball roll around a room. Translated into (to use a catch-all term) pop music, this technique is rather like the jump from mono to stereo must have been. So a fun new toy. However, such an overt advertisement perhaps distracted attention too much from the many other practices being employed.
Whether stereo sound is dead, evil or both, it couldn't have gotten in the way of team Juffage and the Leftbank Centre. Starting with a grounding in reality, our lead man held a tape player above his head in the pulpit and wailed a few lines down upon us before coming down to the stage to join Katie Harkin (of Sky Larkin and Wild Beasts) and Tom Evans (of Vessels) to deliver a precision miscellany of Juff. Watching them perform alone is a marvel (especially Juffage and his two invisible arms) but variety's what lights the set up - the bases the man can cover are all lined up tonight and perfectly timed so as to never leave you far from a clear and sincere hook but still spend lost time swimming in explorative ambiences with ferocious technicality. And yet still an appreciation for simplicity! The man once told
Bearded
that he 'just always wants to be better' after shocking us with a set accompanied by one acoustic guitar and a tuning pedal, and, of course, what he has learnt from that dedicated application to multiple and varied goals, all comes out to help achieve the current mission.
So, a honed and professionally accompanied Juffage gig improved by octophonic sound and this phase is over. Soaking up the enjoyment of the audience, and finding the focus of the talk falling on the 'special technique', its certain effectiveness and other applications, it becomes clear what Juffage has accomplished. Through the popular carriage, he's re-wired some brains. Through moving a, if we're honest, slightly old art technique into the popular sphere, Juffage has set a precedent with those listening for further access, exploration and a wealth of other benefits. Many people came out of the gig saying it should become standard practice in other gigs and clubs and the use
is
instantly apparent. Many more came out questioning the length of the process required to set the system up, not Juffage's commitment but the programmers.
And anyway, even if octophonic music does not find a home in the venues and clubs of Britain,
Juffage
has created a benchmark. Something to be reached for by the industry and leaps along from hearing a ball roll round the room. So, feeling like one of the first people to see a talkie, Bearded left waving our arms about in description of imaginary sound waves from a land where anyone can program octophonic sound.