Zervas & Pepper: Lifebringer (Zerodeo Records)
Welsh duo return with sparkling Californian inspired folk-rock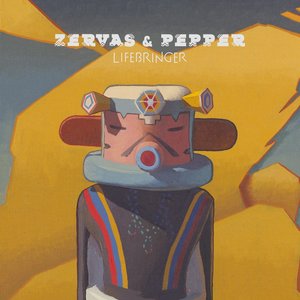 The second album by Welsh folk/harmony duo
Zervas & Pepper
finds the pair combining the sound minted on their British folk inspired debut with the golden FM sounds of 1970s California.
Comprised of Paul Zervas and Kathryn Pepper,
Lifebringer
in keeping with their live shows places the two singer's voices front and centre, alternating lead vocal duties while the other supplies harmonies. While their impressive concerts have recently featured just the two musicians, on record the pair augment their acoustic driven missives with lapsteel, sympathetic string arrangements and light-limbed rhythm section, allowing the songs to fully blossom.
Relocating to write the bulk of the album in LA, the city is strongly invoked on the record, eleven breezy meditations on life that hark back to singer-songwriter totems Joni Mitchell and James Taylor alongside Fleetwood Mac and the gentle psychedelia of Buffalo Springfield. Creating the effect of flicking through radio stations whilst driving down the coast of The Golden State, the LP evokes a languid afternoon in sun-kissed CA.
Along with the aforementioned other figureheads of the era also loom large as opening track 'Buffalo Crow' title and all is a dead ringer for the sound minted on Crosby, Stills and Nash's classic eponymous debut.
Recent single, the string laden 'Jerome', the tale of a father warning his son to leave the small town of his birth for the bright lights of the big city is a standout moment as is 'Living In a Small Town', replete with phased lap steel accompaniment redolent of
The Notorious Byrd Brothers.
The opening lyric of 'Lookout Mountain' contains the clearest lyrical nod to the locale, 'So I find you in the canyon/And I walk a mile in your shoes' a nod to Laurel Canyon, address of the artists that inspires much of the disc. In contrast 'Ghost Dancer' is the most 'English' sounding cut, a plaintive folk cut, embellished with eddying flute accompaniment.
The album's lead single 'One Man Show' meanwhile boasts the pronounced influence of 1970s period Fleetwood Mac, the lyrics reminiscent of the Stevie Nicks' authored tracks on
Rumours
. Closing with the gently regretful 'All the World Has Changed', which builds into a massed chorus of
'And when you wake/You will remember'
the album's eleven tracks clock in at a concise 39 minutes.
Sensibly released right in the middle of the festival season,
Lifebringer
proves to be a sparkling soundtrack to long afternoons out of doors, British weather permitting.