Zervas & Pepper - Abstract Heart (Zerodeo Records)
Welsh duo issue third LP of shimmering LA folk-rock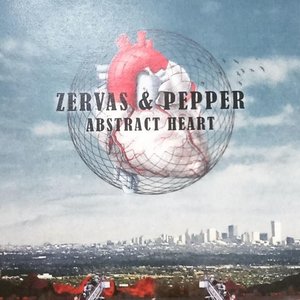 Journeying further into 1970s West Coast pop, folk rock duo
Zervas and Pepper
return with their third LP
Abstract Heart
, inspired variously by times spent over in India and (of course) Los Angeles.
While Kathryn Pepper's Joni Mitchell inspired vocals are iridescent as ever, romantic and musical partner Paul Zervas' vox are increasingly beginning to sound like a latter day version of treasured band influence David Crosby.
Now backed by a band full-time the folk stylings of previous LP
Lifebringer
has understandably lessened with the arrival of a rhythm section. While the trips abroad have imbued the tracks with instrumental colour, all the songs are founded on the shimmering steel strung guitar work of Zervas and his close vocal interplay with Pepper.
The atmosphere of the most western facing point of the United States mainland bulks largest throughout, with 'Silver and Chrome' a perfect soundtrack to accompany
Mad Men
heroine Meagan Draper driving to auditions for the day, while 'These Blurred Lines' features a recurring backwards guitar figure highly redolent of classic CSNY.
A new found direction sees the space programme surface several times on the LP, with 'Laika', a lament for the dog the Russians (somewhat cruelly) sent up into space in 1957 which given additional synth textures and more of a brittle edge could pass for
Space Oddity
era David Bowie.
Similarly final track 'Celestial Friend' concerns the cosmos and lives up to the psychedelic tone of the title. Opening with a intro dimly like The Doors' monumental showpiece 'The End', the cosmic feel of the Indian slide guitar and tampura embellishments give a possible hint of where the duo may be headed next.
While a hint of a slightly darker edge might have been welcome at points,
Abstract Heart
sees the duo's exploration of noon bright folk rock as the sixties drew to a close continue to reap rich dividends.