Wye Oak: The Louder I Call, The Faster It Runs (Merge)
US indie stalwarts return for excellent sixth LP with a new focus on electronic elements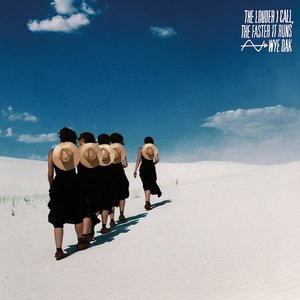 Over the course of ten years
Wye Oak
, Maryland formed duo Jenn Wasner and Andy Stack have become as venerable a fixture in the indie rock landscape as the (now sadly departed) state tree that inspired their name. The evocatively titled
The Louder I Call, the Faster It Runs
(pursuing prey running away from you? Not being able to get what you want?) sees the duo return with a sixth disc that feels like the definitive opening of a new chapter for the outfit.
While the band have always included electronic elements alongside their core constituents of guitar and drums, here the percolating synth patterns and programmed patinas are pushed into the foreground. Jenn Wasner's voice as ever represents Wye Oak's fulcrum, her beautiful, ear balm vocals providing the central element everything revolves around. As the album cover and accompanying videos showcase, the American landscape informs the LP. The colossal road journey between the pair's respective homes in Marfa, Texas and Durham, North Carolina ranging from leafy suburbia across the Mississippi to high desert provided rich inspiration for the material.
The opening cuts ring the changes from the off, as following a tuning up session, The Instrument commences with bubbling electronic motif and sidewinding synth melody. The title track is an ideal primer for the new album, while the glassy, reflective surfaces of Lifer are broken up by the jagged guitar lines. It Was Not Natural, guided by stately piano chords evokes Kate Bush's genius mid 1980s era, while the sparse My Signal, which sees Wasner backed by little more than a spare string section also calls the singer to mind, specifically the stunning
Ninth Wave
suite.
Symmetry possibly over cranks the electronics, being more of an impressive glitch-pop, production showcase than a full-blown song. An album which benefits hugely from being heard on headphones especially Say Hello and Over and Over, the latter calling Cocteau Twins' finest moments to mind as the guitars and drums swarm round the head like bees, with the bassline and Jenn's near-wordless Liz Fraiser-esque vocals keeping the pace steady.
The final three tracks on the disc are amongst its strongest, with You of All People a gorgeous shimmer of pattering tom-tom drums and atmospheric Ry Cooder style lap steel washes. Join is a bright, brief shard of sunlight, while I Know Its Real vaguely recalls Low with its unhurried pace. Creating a clear new horizon for their career with brilliant élan, where the duo head following this is anyone's guess.
Wye Oak European Tour Dates:

Wednesday 25 April - Bi Nuu Berlin, Germany
Thursday 26 April - MeetFactory, Prague, Czech Republic
Friday 27 April - Fluc, Vienna, Austria
Sunday 29 April - Bogen F, Zürich, Switzerland
Tuesday 1 May - Botanique, Brussels, Belgium
Wednesday 2 May - Le Pop-Up du Label, Paris, France
Thursday 3 May - Village Underground, London, UK
Friday 4 May - The Deaf Institute, Manchester, UK
Saturday 5 May - Sound City Festival, The Baltic Triangle, Liverpool
Sunday 6 May - Whelan's, Dublin, Ireland

Tickets are available here