Wye Oak: Every Day Like The Last: Collected Singles 2019–2023 (Merge)
Stand alone singles and new material combined on US alt. rock notables latest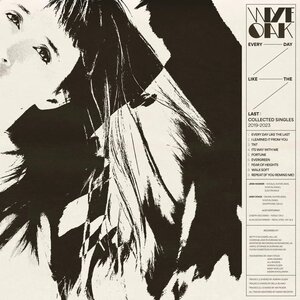 The third compilation issued by
Wye Oak
,
Every Day Like The Last: Collected Singles 2019–2023
, showcases the storied US alt rockers' endeavours since 2018s excellent
The Louder I Call the Faster It Runs
. A group who have previously dipped into their catalogue to figure out ways of venturing forwards, where 2011s
Tween
repurposed earlier tracks and 2021s
Cut All The Wires
' dusted off demos and unreleased cuts, the current set brings together standalone singles and new material.
The new songs are far from mere filler as
the title track
which plaits jangling acoustics and lap steel is imbued with the same woozy beauty as late 1960s era The Byrds. I Learned It from You meanwhile finds a perfect synthesis between Wye Oak's initial folk rock leanings and the crisp electronica of
The Louder I Call…
In similar terrain Fortune is snaking electro pop, while Repeat (If You Remind Me) highlights the duo's skill at marrying percolating electronica to a trip-hop rhythmic undertow, calling Bjork to mind.
Squeezing the maximum out of sparse elements, TNT and Its Way With Me are based are simple guitar arpeggios and gentle electronic embellishments, while the subtle rhythmic shifts of Evergreen and Walk Soft highlights the musicianship of singer / guitarist Jenn Wasner and multi instrumentalist Andy Stack. Like fellow musicians as cinematographers The War On Drugs,
Fear of Heights
showcases the band's skill at creating songs that evoke the endless horizons of the States.
Hopefully pointing the way forward to a full re-emergence by the group,
Every Day…
is a brief but frequently brilliant resume of their recent activity.
4/5