Winter: Supreme Blue Dream (Superfan 99)
LA dream pop crew release excellent debut LP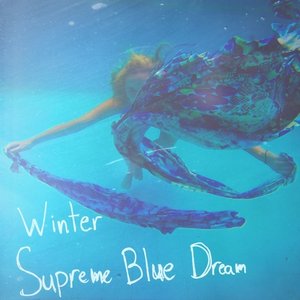 Building on the foundations laid by a string of EPs and 45s issued over the past three years, the long game played by LA based dream pop quartet
Winter
has clearly paid off.
Taking their moniker from lead singer Samira Winter, the Massachusetts-born vocalist received a recent profile boost via her cameo on What D'You Say from The Go! Team's glorious re-emergence
The Scene Between
(
review
) with Supreme Blue Dream gaining a European release following a well-received splashdown Stateside in March.
Effectively distilling the band's approach in its title,
Supreme Blue Dream
comprises a collection of shoegazing pop reveries underpinned by layered guitars led by Samira's gossamer vocals, that along with fellow countrymen, the superlative Wild Nothing seemingly provide an imaginary soundtrack to the next Sophia Coppola film.
Winter's re-location from Boston to LA in 2013 is an absolute no-brainer meanwhile as the vast majority of the disc sounds as though it couldn't have come from any other city.
Diving straight in with the skipping rhythm and sampled keypad tones of Someone Like You, the initial quartet of tracks on
'...Dream
' are as strong as any opening stretch heard on an LP this year,
Entirely fitting for a song title that has scored more UK Top 40 hits than any other, Crazy is possibly this year's finest indie pop earworm. Crunching past like The Breeders at their brightest, if Radio One hadn't degenerated so quite severely over the past decade, the track would once have been a shoo-in for the playlist.
A hazy wash of guitar strumming and undulating synth textures Pretender possesses some of The War on Drugs floating ambiance while Some Kind Of Surprise similarly coasts along gliding guitar noise that unexpectedly breaks for a trumpet solo mid-way through.
The downbeat Like I Do led off by what appears to be a Mellotron and the yearning chorus of Spector girl group update Flower Tattoo '
Say you love me/say you're my friend
' adds a more confessional lyrical element to the noon-bright instrumentation.
The possibly
too
twee Don't Stay Away last but one is a slight dip in quality, before final track 'Expectations', a chanson half sung in French that sounds like a one-off 1960s yé-yé girl single restores the equilibrium.
A fully formed statement of intent first time out for the quartet, while the perilous state of UK summers mean that sunshine can't be taken for granted (or even expected)
Supreme Blue Dream
captures the season in dazzling sonic form.