Tunng – Turbines (Full Time Hobby)
The electro-folk sextet continue to experiment on their majestic fifth record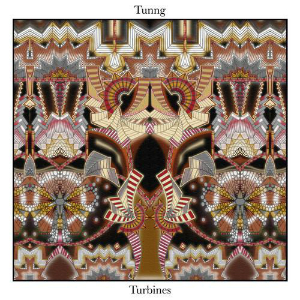 It's been three years since folktronica champions
Tunng
released their last LP
...And Then We Saw Land
. This June, we see them follow up that lauded effort with their fifth full-length,
Turbines
. The anticipation for this latest instalment is such that they've already managed to sell out two album launch dates in July – not bad for a band that has never really had a 'hit' in the traditional sense. After a decade of making music, they remain unsung heroes. Now, with founding member
Mike Lindsay
residing in Iceland for his solo project
Cheek Mountain Thief
, they've been torn asunder. However, the intimate feeling that Tunng have cultivated over the past ten years still exists, though it's now interspersed with far more earth-shattering epicness than ever before.
Lead cut 'So Far From Here' might sound like another
Bloc Party
cover – who can forget that mesmerising version of 'The Pioneers'? – but in fact is an unkempt bout of neofolk with pangs of the Orient. It's a slow-burning track, augmented at every turn by the implementation of spidery guitar riffs, rickety morsels of unearthed percussion, duelling vocals and gong-like bass. What starts callow, rapidly expands like a marshmallow in a microwave into something wildly monstrous, but ultimately delicious. 'The Village', accompanied by shuffling acoustic guitar and plinky-plonk keys, comes across almost like a '70s glam-pop number. Synths and rigid beats dart between each other, conjuring a psychedelic drama.
Tunng have always been fond of melding organic instruments with synthesised noises. They were forefathers of the subgenre they've found themselves prolific in, with early tracks like 'Bullets' ushering in a new brand of music that was pretty much unheard of before. Instead of delicate twangs and ethereal caterwauling, the collective broadened their arsenal, using wacky, outlandish instruments, like sea shells, to create a rattling, rhythm-focused batch of bucolic paeans. Turbines is different. While there is still the quirk of previous releases, there's less concentrated flippancy. Instead, the group have rededicated themselves to walls of noise and immense structures. There's still a melange of the sci-fi and the fantastical, but the Scandinavian influence that Lindsay wields has had an indelible effect.
'Trip Trap', a lolloping ditty with polyrhythms and almost dubsteppy drums/bass squelches and lurches, creaks against the confines of folk as a genre. There're twinges of reggae, dollops of EDM and more than a whiff of Nordic rock pleasure. There are likenesses to acts such as
Sin Fang
– the enormity of the sound, mixed with an aloof iciness, bears a resemblance to our Northern neighbours from across the sea. 'Follow Follow' is a farrago of twee-pop blips, all pitter-pattering into the off-kilter guitar like saccharine raindrops. They toy with rhythms, using a clicking drum machine and buzzing basslines as a contrasting feature below the all-smiles top layer. Again, it's got that link to the tundra of the Arctic Circle; lo-fi male/female vocals and faint rattles permeate the cacophony.
Phil Winter
(AKA 'Mr. Synth', which may or may not be a real nickname) shared his wisdom on Tunng's changeable personality: "The best thing about working with this band is that we can chuck all the ingredients in, give it a good shake, and see where it lands." They've never truly fit into one pigeonhole – heck, they experimented in gospel for their last record – and Turbines doesn't see them start morphing into anything tangible yet. This is poppier, they eschew a lot of the instrumental kookiness, but in its place is manic dabblery in rhythms and structure
The strangeness of Tunng is in a different place. It may have a more mainstream appeal, but it's by no means a record of Top 40 hits. Turbines is the fruits of a band, and this is not at all a criticism, travelling horizontally. They are essentially the same band they've always been, but they've tackled new genres and new ways of subverting them. It still sounds like Tunng, but you can now get to grips with their take on a myriad of fresh sounds.