Thee Oh Sees - Castlemania (In The Red)
"Pastoral" is hardly a word you'd use to describe the often coruscating output of Thee Oh Sees, but with their latest release John Dwyer seems to have got in touch with his softer side.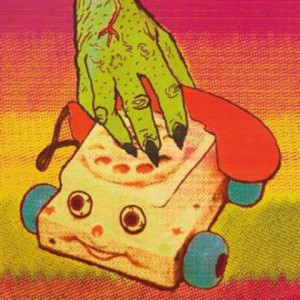 "Pastoral" is hardly a word you'd use to describe the often coruscating output of
Thee Oh Sees
, but with their latest release John Dwyer seems to have got in touch with his softer side. Leaning less heavily on the turbo-charged, swampy garage rock sounds which denoted predecessors
Help
and
Warm Slime
, new album
Castlemania
finds Dwyer largely going it alone and flexing his pop tendencies.
Alongside the usual Roky Erickson references, this time Dwyer also channels Syd Barrett and Arthur Lee, while the analogue synth washes on 'Stinking Cloud' and 'Blood On the Deck' introduce a new layer to proceedings, with a slightly dirty, psych-fuelled brand of sunshine pop being the dominant force here. The crumpled folk-pop of opener 'I Need Seed' comes with the mainman's nasal whine to the fore, augmented by flute and a breezy sense of playfulness. Meanwhile, the mellotron stylings of 'The Horse Was Lost' is oddly downbeat, a desolate instrumental piece peppered with squalls that highlights the unpredictability which makes this such an inviting outing.
There are some characteristically creepy and disquieting lyrics which add a touch of the sinister; almost as a sprinkle of broken glass to take the edge off the bubblegum. This is certainly the case on 'Stinking Cloud', where the pitch-black imagery is deliberately juxtaposed with the sunny sweep of flutes and horns. Dwyer certainly can't be accused of lacking a mischievous sense of humour. 'AA Warm Breeze' is equally unsettling yet musically sounds like a mutant outtake from a Bob Dylan session circa 'Subterranean Homesick Blues', while the Syd Barrett-esque 'Spider Cider' is reliably madcap.
Despite their more melodic approach being to the fore, one thing
Castlemania
lacks is a jagged-pop headrush in the vein of 'Ruby Go Home' or 'I Was Denied'. Nevertheless, this doesn't detract from the album in any way, and long-term Dwyer-watchers will be keen to hear that the Nuggets-style garage rumble which has long informed his music is still evident here, especially on the fuzz-laden title track and 'Corrupted Coffin', which zips along in a cacophonous blur, while a cover of West Coast Pop Art Experimental Band's 'I Won't Hurt You' is agitated dream-pop of the kind which Yo La Tengo specialise in but refracted through Dwyer's own off-kilter prism.
What remains staggering about frontman and chief songwriter Dwyer, and by extension Thee Oh Sees, is the astonishingly prolific rate at which they offer up records, and without any sign of diminishing quality. Theirs is a work ethic far removed from the usual guitar band treadmill of releasing an album every 2-3 years and touring it to death. Restlessly and relentlessly creative, you get the impression Dwyer's productivity is largely a result of his own reluctance to stand still.
Castlemania
favours evolution over revolution, and the new ingredients underpin Dwyer's main strengths as opposed to overwriting the key tenets of past records. But they also offer a glimpse of varying shades and tones which exist in Thee Oh Sees' considerable arsenal – a variation on their enticing, invigorating sounds which compels and drags listeners inside their singular world. It's a surprising and recommended long-player and one which can only leave you wondering what Dwyer could possibly come up with next. If he keeps putting out records at this pace, it thankfully won't be a long wait.