The Limiñanas: I've Got Trouble In Mind Vol. 2 (Because Music)
French psych rock outfit return with solid second collection of rarities and standalone tracks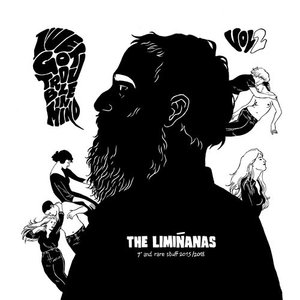 Making a swift return following 2018s fêted
Shadow People
, storied French psych rock duo
The Limiñanas
issue a second collection of rarities, standalone singles and unreleased material. Plotting a course through vintage US garage rock, classic French and pulsatant motorik beats, the duo's psych/garage/yé-yé alloy has seen them become a wellspring of off-kilter but melodic psychedelia. Maintaining a prolific release rate since their inception a decade ago, it speaks for the quality of Marie and Lionel Limiñana's offcuts that the material here is easily strong enough to be compared to many band's official albums.
Focusing on the highlights, a cover of The Kinks'
Two Sisters
sees BJM leader and kindred spirit Anton Newcombe makes an appearance on vocals. Live favourite
Russian Roulette
originally by UK goth-punks Lords of the New Church, which featured members of Dead Boys and Sham 69 also highlights the couple's wherewithal on cover versions.
Found on the flip side of the excellent Istanbul is Sleepy which also featured Newcombe, Nuit Fantôme is a pocket symphony psych mantra that incorporates a spoken word verse, a massed chorus chant and suitably gothic atmosphere into four minutes, while La Cavalrie is excellent retro pop. Brilliantly locating the mid-point between the Mary Chain and New Order (unsurprising, as Peter Hook features on bass), The Gift (Anton Mix) streamlines the original down to a radio-perfect three and a half minutes.
Showcasing their fondness for soundtracks, Maria's Theme doffs its cap to is Morricone, while The Inventor is a curious but successful combination of Brian Jones'
Master Musicians of Joujouka
project overlaid with a Kosmiche groove and what sounds like a Nouvelle Vague film playing next door. The sashaying garage rock of Witches Valley is reminiscent of The Seeds' classic Pushin' Too Hard, while The Woods and a live take on The Train Creep A Loopin' are solid instrumental cuts.
The Mirror is a slight misfire, with novelist Kirk Lake performing his lyrics as a spoken word piece, showcasing how difficult the form is to truly nail when compared with the likes of Gerard Langley from art rock outfit The Blue Aeroplanes. Featuring two curveball Yuletide tracks, one self-penned, The Cure of Santa and one traditional, Silent Night, aside from inessential items Wunderbar and Lord of Flashington (have they been watching
Blackadder
?) towards the close,
I've Got Trouble In Mind Vol. 2
is a strong new addition to the duo's catalogue.
3/5
The Limiñanas live dates:

Thu 31 Jan - L'autre Canal - Nancy, France
Tue 05 Feb - Paradiso Noord, Tolhuistin - Nieuw-Amsterdam, Netherlands

Thu 07 Feb - Academy 3 - Manchester, UK
Fri 08 Feb - Grand Social - Dublin, Ireland
Sat 09 Feb – God's Waiting Room @ The Black Room - Belfast, UK
Sun 10 Feb - Broadcast - Glasgow, UK
Tue 12 Feb - Exchange - Bristol, UK
Wed 13 Feb - 100 Club - London, UK

Tickets