The Limiñanas Announce New Album and European Tour Dates
French psych duo set to issue new LP and announce tour including UK shows for February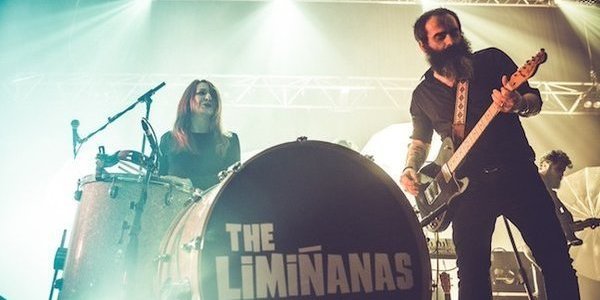 French psych duo
The Limiñanas
have announced the release of their new LP
I've Got Trouble In Mind Vol. 2
on 16th November. A collection of rare recordings, 7" singles and unreleased material, the disc is the follow up to 2014 album
I've Got Trouble In Mind
.
Alumni of
Liverpool International Festival of Psychedelia
where they played the specially curated Trouble In Mind stage, Perpignan based duo Marie (drums/vocals) and Lionel (guitar, bass, keyboards and vocals) are one of France's leading psych groups. Combining vintage 1960s psychedelia with elements of shoegaze and yé-yé, the band's effortlessly cool vocals, recall Serge Gainsbourg and Brigitte Bardot.
Set for release through Because Music (Charlotte Gainsbourg), the group have shared Russian Roulette from I've Got Trouble In Mind Vol. 2. A live favourite, the track is a cover of English/American gothic rock supergroup Lords of The New Church, which included members of punk legends The Dead Boys, The Damned, Sham 69 and The Barracudas.
The upcoming disc also features a cover of The Kinks'
Two Sisters
which saw the band collaborating with
Brian Jonestown Massacre
mainman Anton Newcombe, who went on to produce the band's 2017 EP
Istanbul Is Sleepy
.
Currently on the road across Europe The Limiñanas visit the UK and Ireland for a clutch of shows next February (see below for full dates and ticket link).
Thu 15 Nov - Hafenklag - Hamburg, Germany
Sun 18 Nov - Hafenklag - Hamburg, Germany
Tue 20 Nov - Centre Culturel Kulturfabrik - Esch-Sur-Alzette, Luxembourg
Wed 21 Nov - Laiterie - Strasbourg, France
Thu 22 Nov - Le Romandie - Vennes-Sur-Lausanne, Switzerland
Fri 23 Nov - Le Noumatrouff - Mulhouse, France
Sat 24 Nov - La Vapeur, Dijon, France
Wed 28 Nov - La Liberte - L'etage - Rennes, France
Thu 29 Nov - Espace Vauban - Brest, France
Fri 30 Nov - Stereolux - Salle Maxi - Nantes, France
Sat 01 Dec - L'echonova - Saint-Ave', France
Wed 12 Dec - Le Brise Glace - Annecy, France
Thu 13 Dec - Espace Julien - Marseille, France
Fri 14 Dec - La Belle Electrique - Grenoble, France
Sat 15 Dec - L'archipel, Perpignan, France

Thu 31 Jan - L'autre Canal - Nancy, France
Tue 05 Feb - Paradiso Noord, Tolhuistin - Nieuw-Amsterdam, Netherlands

Thu 07 Feb - Academy 3 - Manchester, UK
Fri 08 Feb - Grand Social - Dublin, Ireland
Sat 09 Feb – God's Waiting Room @ The Black Room - Belfast, UK
Sun 10 Feb - Broadcast - Glasgow, UK
Tue 12 Feb - Exchange - Bristol, UK
Wed 13 Feb - 100 Club - London, UK

Tickets available here