The Black Tambourines – Freedom (Easy Action)
Falmouth quartet deliver ragged glory in abundance on second LP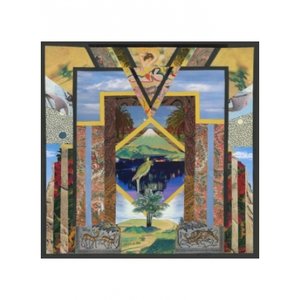 The follow up to their eponymous debut LP
Freedom
places
The Black Tambourines
alongside the superlative likes of US garage-pop troupe
Twin Peaks
and similarly excellent Merseyside crew Hooton Tennis Club.
Able to match ragged melodicism with insouciant conviction that neatly avoids sounding under-achieving, the present set builds on the Cornish band's acclaimed live show which recently included supporting the Mary Chain and playing guerrilla gigs at Brighton's Great Escape festival from the back of their tour van.
Bathed in warm tape-hiss and with fevered multi-tracking to pump up the guitar tracks gratefully absent, the lo-fi production throughout
Freedom
lends proceedings the feeling of sitting in on a practice session with the band. A minor mis-step occurs early on unfortunately as blazing opener 'I Wanna Stay' gives way to the driving 'Punk Simon', which despite being a decent track is slightly too similar to the preceding song and might have benefitted from appearing later on.
A mid-album sequence of tracks that crank the tempos up proves the quartet possess the punching speed to compete with any given punk band as the gloves-off likes of 'Sister' and in particular 'No Action' prove, with the latter sounding like early Hüsker Dü relocated to the South Coast. Elsewhere the clockwork riffs that drive 'Namaste' show that beneath the fuzz the quartet can deliver metronomic as well as ramshackle.
'John Lock (Lost)' named after the bullet-headed tough guy from much admired cult TV series
Lost
, (copyright presumably prevented the band from giving him his correct spelling Lock
e
) maintains the light-speed pace, the eighth generation C90 cassette fidelity lending the cut the effect of a recently unearthed US alt. rock band.
The lopsided riff that powers 'Cool Out' elsewhere calls to mind Blur at their most US indie rock-centric on their 1997 eponymous LP, the addition of organ keys pushing the song up a level, to become one of the best things here, while 'LA' and 'Look Down' are the sound of The Rolling Stones circa 1966 after being awoken following a long flight and being hassled by airport security.
The aptly titled 'Ride Hard, Crash Hard' meanwhile does exactly that, as a skewed series of chords crashes along before the track collapses into a outro that sounds as though a freight train has smashed through the band's practice room. Where some groups might finish the set here, to their credit the present band save possibly the finest track, the staccato riff of lead single 'She Don't Mind' til last.
An impressive set as it stands, if the band can improve on this template for their third LP,
Freedom
may well end up being a stepping stone to a higher level.
The Black Tambourines Links