Seas of Mirth: Sub Marine Dreams (Eelshock Records)
Quirky indie genre-mashers make waves with deeply groovy underwater concept album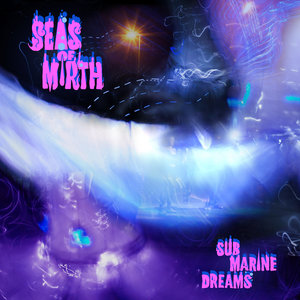 The last few years have seen something of a comeback for the concept album. Everyone from stadium overlords to future R'n'B auteurs has had a go at sculpting an overarching concept that's, like, really deep and tells people this isn't just a few songs shoved together - this is a Major Statement, maaan.
However, in art as in life, it's usually a mistake to take yourself too seriously. Fortunately for us, indie oddballs
Seas of Mirth
got the memo. Attitude-wise, their third (!!) consecutive underwater concept album has more in common with the goofy aquatic funk of Parliament's frolic-filled '78 classic
Motor Booty Affair
than Muse banging on about the Illuminati. Again.
This odd little gem snuck out around Christmas-time but is too good to have got lost amid the endless 'albums of the year' articles. This is mind-altering folk from an alternate reality, spreading its tentacles into many other genres. Opener I Need to Have Your Babies, f'rinstance, is clever modern guitar-wrangling meets Fairport Convention, with a plethora of proggy tempo changes - a futuristic oceanic reel.
Meanwhile, the playful vocals, filled with stream-of-consciousness larkiness, coexist happily with supple, idea-packed tunes with musical ADD. More is definitely more here, as the kitchen sink is gaily tossed in to often impressive effect. However, this is compact, hooky stuff - there's no pointless noodling here.
The tricksy funk of Ink (Do the Blollop) would fit nicely into one of the Mighty Boosh's Old Gregg episodes. Polytheme is subterranean dreampop, a lovely, swirly hymn to undersea beauty (it's very psychedelic down there, people).
The groove of Jellyfish Metropolis goes a bit Middle Eastern, while Happy Hour at El Squid Diablo is a daft boozed-up fiesta you can kinda imagine the Bees doing. ¡Arriba!
Deep Deep Heat is one of several tracks with gorgeous jazzy guitar textures, while Masculine Impersonator marries shifting Santana grooves to jazzy organ and massed vocals to progtastic effect.
Klank Klank ups the attitude, funking hard like prime Pogues meets early Chilli Peppers. Pearl of Peril adds a touch of disco-lounge classiness which closer Sub Marine Dreams maintains.
Theoretically, this album should sound like an unholy mess, but somehow all the elements cohere into a joyous kaleidoscope of silliness and musical invention.
Come in, dive in, the water's lovely.
4/5
Seas of Mirth Tour:

Thu 9 Apr – Sheffield Crookes Social W/ Poppers Revival, Yodynamo
Sat 11 Apr – Manchester Old Abbey Tap House W/ Ask My Bull, Mollusca
Sun 12 April – Hull The New Adelphi Club
Sat 18 Apr – Brighton The Prince Albert W/ Cabarats, Effie Fowler Band
Fri 24 Apr – London The Goodness Brew Co. W/ China Shop Bull, Easydread
Fri 1 May – South Wales The Cwmcarn Hotel – Free Entry
Sat 2 May – Devon Brixham Pirate Festival (Aftn – Free Entry)
Sat 2 May – Cornwall Patchwork Studios (Eve)
Sat 9 May – Bristol Jam Jar W/ Ushti Baba, Psychoacoustic Goat
Thu 14 May – Nottingham Special Details Tba
Sat 4 Jul – Liverpool Festival Details Tbc (Aftn)
Sat 4 Jul – Worcestershire – Not A Cult Festival (Eve)
Sat 18 Jul – Derby Rum Festival
Sun 23 Aug – Just So Festival, Staffordshire

Tickets available here