Seas of Mirth: Kriller (Eelshock / Sentient Rash / Post Music)
Underwater-themed party fiends return with more wonky, funky jams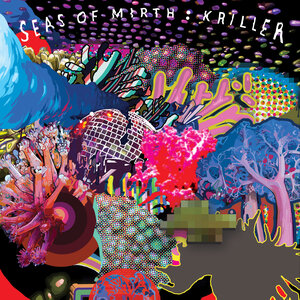 Seas of Mirth
first appeared on this site several years ago, when their
high-concept aquatic-themed tunes
tickled Bearded's ears and funny-bone. The Nottingham-based nine-piece are certainly committed to their shtick. Once more,
Kriller
(see what they did there?) is set in an anthromorphicised undersea world, where all manner of marine critters party 24/7 to the band's eclectic take on 80s funk, prog and more. From falsetto-filled opener
Dig Out the Moves
to closing instrumental The Night Goes On (And On), the lyrics take a back seat to the grooves. And man, this lot are tight.
Beat bits include Fangtooth's deep-as-the-Marianas-Trench bass-and-sax groove; Tiki Tak's percussive, Latin-tinged minimalism; and The Night Goes on (And On)'s 'all back to mine' vibes.
The rippling, interlocked African-inspired guitars on Amphibious Remedy, Lil' Underworld and others are a particular highlight, while all the tunes here are full of interesting textures. When the Night Knight Comes has a touch of NY punk-funk, while Strange Place of Hiding's flute-inflected mellowness is a welcome change of pace. And as far as this writer is concerned, you can't have too much cowbell...
However, for all the nice touches, the album hasn't got many songs, as such. One gets the feeling that
Kriller
is the result of hundreds of hours of mates jamming in a smoke-filled room. There are slightly too many mid-song changes of direction: some of the best moments, such as nightlife-hymning banger Neon Paradise, are the most straightforward. And the vocals are less than memorable: though most of the tunes have them, several feel more like semi-instrumentals than songs as such.
Kriller
has its moments but doesn't quite cohere, caught between feelgood anthems and proggy cleverness. But there are enough good bits to suggest we might sea another cracker from SoM next time round (I'll get me coat..)
3/5