PAWS – Youth Culture Forever (FatCat)
Helpless separations, loss and a smoking and explosing blunderbuss of 1990s energy create a summer anthem for clinging to fading youth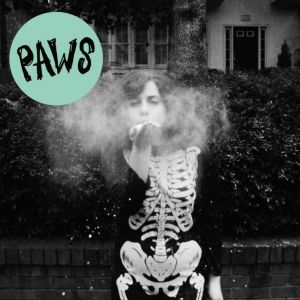 It's been quite the year for
PAWS
. First album
Cokefloat!
received a lot of good reviews, while on tour last month with We Are Scientists, Morrissey allegedly tried to have them cancel a gig and now they've released
Youth Culture Forever
their second album.
Welcoming you in with loud-quiet ballads and dirgy slacker-rock songs
Youth Culture Forever
begins by smoking and exploding like a big dirty blunderbuss. Very quickly PAWS onrushing music establishes itself within the same field as Palma Violets'
180
, Veronica Falls' albums or Big Deal's 2013 offering
June Gloom
. It's unashamedly uncomplicated, uncontrived music with a melody right on the crest of the wave of nineties resurgence that's going around at the moment. And there are even hints of the shouts, skin smashing and guitar yelps to be found attached to PAWS' Scottish counterparts, Biffy Clyro.
The end of relationship song 'Erreur Humane' instantly fulfils lead singer Phil Taylor's aim of making something "bigger and louder, softer and quieter" than PAWS' debut LP. Within this song there are intentionally crude and obvious rhymes emphasised by stumbling on the rhyme itself by Taylor. It makes the rhymes cutesy, well drilled and just off-timed to jar enough to make them stick, and it sounds like Big Deal's Alice Costelloe makes an appearance on 'Tongues' (she already collaborated with PAWS on 'Sore Tummy').
If you're aware of Big Deal's shoegazing, catchy 1990s renaissance indie-rock, you'll get a good indication of what PAWS are aiming that smoking blunderbuss of rock music at with 'Tongues' and
Youth Culture Forever
. In fact, Big Deal and PAWS are having a bit of a love in at the moment. The two bands have been sharing songs on each other's Facebook pages (loveheart symbols included), vocals on each other's songs and the skills of Rory Atwell to produce their albums. And Atwell's involvement with both could explain some of the occasional crossover in sound and sentiment.
On the present album there are many songs expressing utter discontent but delivering it with delirious joy, as well as tackling issues of loss delivered with the right tone to feel like end-of-day blues. 'Owls Talons Clenching my Heart' is a fine example of PAWS' penchant for heartbreak anthems. And on one of the most accomplished sounding songs, 'Alone', a slow, lonely blues delivery hits the right tone with Taylor's metallic voice and chugs through a snapshot of life. "
He's got a gun, he likes the taste of metal in his mouth/He's not the only one…fuck what the others think…why would you want to go to a funeral if you're alone?
" On this album there may be a few space fillers, but with its smoking gun energy PAWS are primed for an angsty sing-along set at festivals this summer.
Youth Culture Forever
is an instantly likeable album, and while not breaking any new ground, wastes little time on each song. With the disc aptly named from a quote from cartoon 'Adventure Time' when, as Taylor explains, "One of the main characters screams "Youth Culture Forever!" jubilantly in an act of defiance towards an older character who was telling him that his new-fangled youthful ways of thinking and acting were silly and naïve" the entire LP feels like that jubilant kid, running off screaming and clinging defiantly to youth.